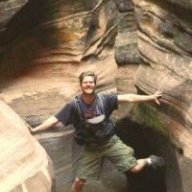 Joined

Mar 12, 2013
Messages

1
Having been stuck in Salt Lake's inversion for several weeks. We looked for warmer weather. Typically Vegas has no draw for me, but with a storm clearing the air down there and it being cold and gloomy here, we decided to venture. The area is comprised of a 30 mile scenic loop drive. Hiking trails are minimal as is elevation gain on most.
The visitors center is relatively new and quite nice. We stopped there to get any recommendations and start the day.
After taking the obligatory pics from the visitor center, and mapping our course we set off. The few small hikes on the way are worth stopping for. They are typically less than a few miles, so it was good to get out and run a few to warm up.
The White Rock / La Madre Spring Loop trail seemd to have what we wanted - a nice exposed hike that would keep us warm on a 48 degree January day. We chose to start at Willow spring, hike to La Madre Spring, then back to the loop trail to finish up the loop. The first half of the trail is quite nice with good scenery. We encoutnered less than 10 people the entire loop. Granted it was January and still somewhat cool. The night before, there was a decent rain storm that left the air crisp and clean. So the area was a welcome change from Salt Lake's air. The trail is well signed so there was no need for a map. After a couple hours, we got to Keystone Thrust, where you come back and re-connect to the loop trail. As we finished the first half of the trail and started the loop back to the car, the hike flattened out and quite frankely became a bit boring. Its a nice hike, but with the sun now behind the mountains the temps were dropping. With another 4 or so miles to go, we picked up the pace and made a bee line for the car.
Overall it was a nice hike with decent scenery. Going in January limited the lenght and warmth of the day! But I cannot imagine how hot the area must be in mid-summer!
If your in Vegas and need some time from the strip, its definitly worth the drive and the 6 mile loop (give or take a few miles with going to the spring and to the thrust) goes by quickly due to low elevation gains.
Featured image for home page: