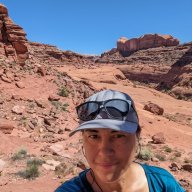 Joined

Jan 11, 2018
Messages

753
I did this loop first a few years ago in the warmer months, and the exit canyon was a sandy slog. This time with the recent rains the conditions were perfect, and water was plentiful.
Logistics


Start/end:

I started from the lower Red Cliffs parking area, but one could also park closer to the campground or at the Cottonwood trailhead.


Mileage:

~10 miles


Difficulties:

class 4ish chimney, exposure


Elevation gain:

~900 ft


Navigation:

may want a GPS the first time since some of the landmarks aren't obvious


Dogs:

not recommended on this route due to exposure and technical sections


Fee:

$5 day use fee or National Parks Pass


Nearest town/gas:

Harrisburg, UT


Seasons:

spring, fall, winter (enough exposed hiking to be unpleasant in summer); water is seasonal
Date hiked

:

27 Jan 2019
route description
Report
I got a leisurely start from the lower Red Cliffs parking lot (purple dot on map), hoping the clouds would burn off. Quail Creek trail (not on the BLM map) provided a fairly direct route to the Red Reef trailhead, so I didn't have to walk the road this time. As always the towering red cliffs provided plenty of photo ops, and the snowy Pine Valley Mountains made a magnificent backdrop.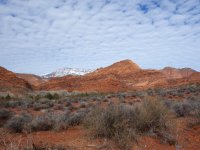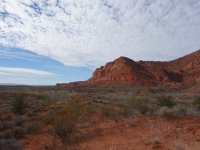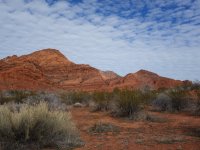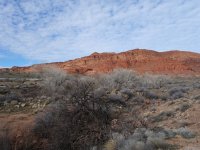 As I neared the upper parking lot I was a surprising with the number of cars for a Sunday morning. I dodged kids, dogs, and selfie photo taking hikers for the first 0.5 mile. Fortunately, most people turned around at the moki steps that bypass the swimming hole.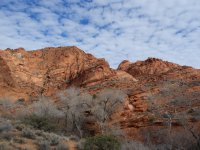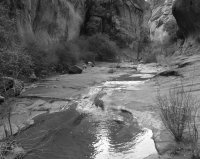 I scrambled up, over, and down the exposed bypass that avoids the cold and wet slot. No one else was upcanyon.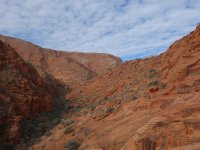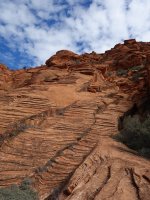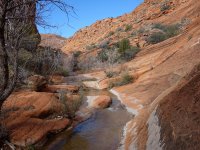 After some mild bushwhacking to avoid wading, I reached the unmarked side canyon that accesses the hanging valley (green dot). The potholes were full and it took some extra attention with the wet licheny/mossy rocks. Above the 4thish class chimney there was still ice in some of the pools.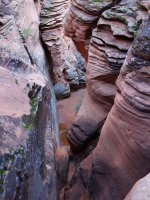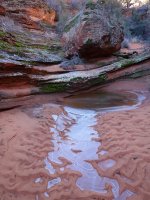 Soon, however, I reached the sunny bit of the hike. There were occasional (unnecessary) cairns. The route follows the hanging valley SW and slightly uphill, then drops into a relatively shallow, but narrower canyon (blue dot). There are other drainages near the end of the hanging valley, but all drain into Cottonwood Creek if you end up in the wrong one.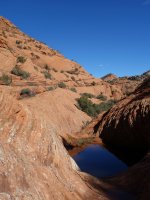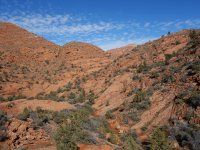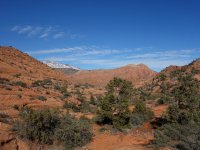 I followed the sandy canyon bottom, down some short dryfalls, then cut up to Prospector trail. Views of the Pine Valley Mountains and Red Reef made up for the barren landscape surrounding Prospector. A few miles from the trailhead I encountered a few hikers/mountain bikers, and soon I was back at my car.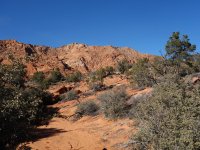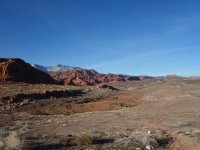 Map with key locations marked
Last edited: