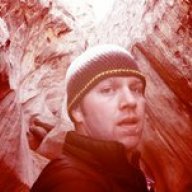 ^^^^^^^^^^^^^^^^^^^^^^^^^^^^^^^^^^^^
Joined

Jan 18, 2012
Messages

464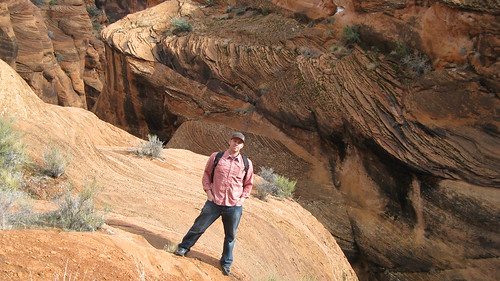 I had a business trip to St George, Utah this past week and decided to take advantage of being in the area for a little hike. I love the St George area, but have only spent time at Zion NP and Snow Canyon SP. I asked for advice on some message boards about some quick local hikes in the area and had some great suggestions. I settled on Red Cliffs recreation area, which is located near Leeds, UT (north of St George). Getting to the location was VERY quick and easy.
I took the Leeds exit and followed a frontage road south a few miles and turned west to head under I-15.
Then I followed the road through this creek and on to the campground area.
I took this picture as I was heading in. Loved the different colors of the dead winter vegetation, the red cliffs, and the snowy Dixie Nattional forest in the background.
I started my hike right away and was amazed at how beautiful it was.The trail follows a creek the whole way and along the way I found this funny-looking tree (it's huge).
The canyon is somewhat wide as I went up and mostly looked like this.
I then came upon the first pool and waterfall. I can imagine this is very nice for a swim in the summer time
The local tribes of southern utah have left their marks (probably teenagers)
I continued up canyon as it started to get deeper and narrower. I loved this area as it lead to another set of two pools and waterfalls.
If you wanted to avoid getting wet, you had to use the handline and moki steps to get up and above it. This area of the canyon was very beautiful (above it) as well)
I continued hiking up as the creek made a sharp turn North and became too narrow for me to hike along.
I scrambled up the sandstone above it to see how much further the creek continued. I decided to hang out up here for a bit and take a few more pictures of the water and of the sandstone in the area.
I climbed up onto this large petrified poo rock and took in the view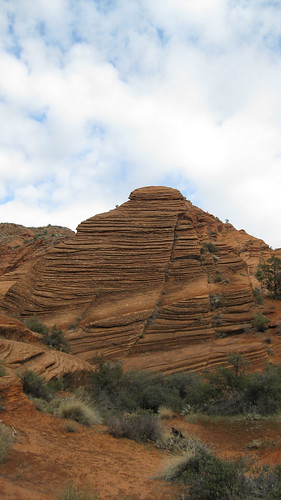 As I climed down, I noticed a lot of B&H's along the top of this area. I'm assuming this must be a popular area for climbers. I'd love to come back and do some rapelling as the trip to the top is not that far/hard to get to
I booked it back to the car and back home to SLC. I had a great trip and look forward to coming back with Alene to do more exploring. There were TONS of side canyons I wasn't able to explore due to time. This is definitely a place I will be coming back to when I'm down here.