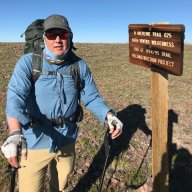 The mountains are calling and I must go
Joined

Mar 31, 2013
Messages

1,024
Take two because I attempted this loop a few years ago
but wasn't very successful.
Henry's Fork Kings Peak
.
Also, I ruptured my Achilles in October 2017 and had surgery
in January 2018. I started walking in March and was able to
start hiking in the foothills above Pleasant Grove in May.
For those two reasons I was especially excited for this trip.
We started at the China Meadows Trailhead.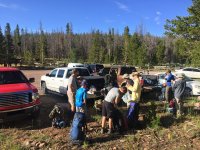 Not much to see for the first few miles.
Then somewhere around 6-7 miles in Red Castle starts to tease with what is to come.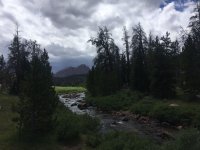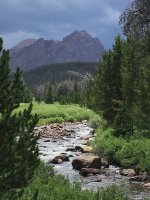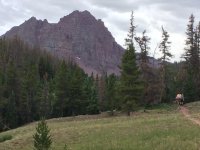 I measured 9.5 from the trailhead to Lower Red Castle Lake. I thought the views were worth every step.
We would spend two nights at Lower Red Castle Lake.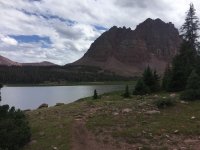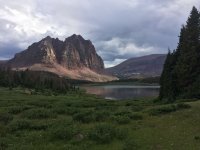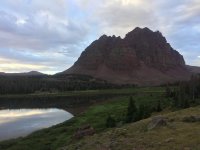 Somebody said, "I can't believe how much green is in Red Castle"
I'm no geologist so I can't explain why, but it is true, there is a lot of green in Red Castle.
It was so quiet and the clouds muted the light in such a way that I was
hypnotized by her beauty. She stands so straight and tall. Through our
two days there, I would be doing something else and she would catch
my eye and I would have to stop and stare, but I didn't care and she
didn't seem to mind.
You see, I'd been stalking her online for last three years and now being right
here with her, I think she rather enjoyed the attention.
On Tuesday we trekked up to see the Red Castle and Upper Red Castle Lakes.
Stopping at an unnamed pond on the way up for an orienteering / map reading lesson.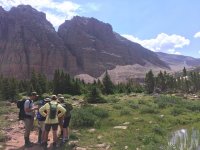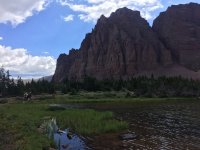 Red Castle Lake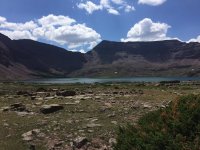 Waterfall on the southwest end of Red Castle Lake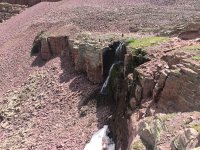 I looked as though if one were daring enough they could step down into the fall. I was tempted, but no.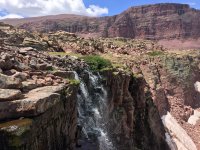 Past the waterfall I did give into my favorite mountain pastime . . . napping in the grass.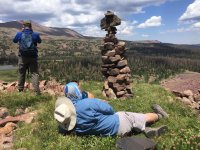 My nephew from Louisiana, Ben, thought it was pretty cool to have snow in July. If he only knew what was to come . . .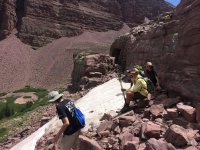 Then it was back to camp.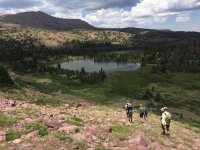 In preparation for this trip I'd looked at hundreds of photos, watched videos, read TR here and many other blog posts from others.
One of things that stood out to me was the number of moose sightings around the Red Castle area and never having had a wildlife
sighting in my almost 30 nights in the Uintas, I felt I was due.
I made a similar comment a few years back on this site in regards to my rain jacket.
I purchased what I considered to be a quality rain jacket. At the point I'd spent 5-10 nights in the Uintas but had never used it because,
well, I'd never got any rain.
Next Uintas trip was this one
where I got nothing but rain.
So as you may have guessed I had some spectacular moose encounters.
First one was after returning from Red Castle Lake I was knocking around the west side of Lower Red Castle
trying to find the best way to connect with the Smith Fork Pass trail without having to backtrack.
My head was down looking at the map on my phone when I walked out of the trees into a small meadow.
I looked up and Mr Bull Moose was right there, less than 10 yards away.
Pictures just don't do this animal justice. His size, his majesty and that rack on his head. WOW!
Unfortunately, I reacted badly. And there was no reason to, but I did.
He looked up from his lunch the same time I looked up from my phone and our eyes connected for one second.
Then I audibly gasped. . . . loudly.
I had was backing away and starting to run before I was even aware of what I was doing.
Fortunately I gained enough control of my crock brain to snap this photo as I was running away.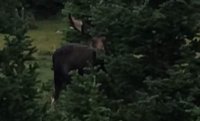 Next day we were on our way up Smiths Fork Pass towards Yellowstone Basin.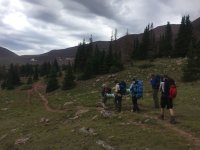 East Red Castle

Smiths Fork Pass Lake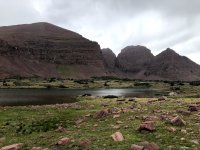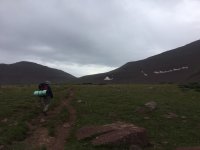 Reaching the top of Smith's Fork Pass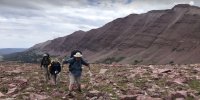 Once we descended onto the south side of Smiths Fork Pass we left the trail, staying in the upper regions of Yellowstone basin.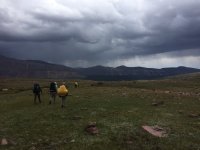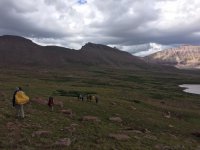 Finally putting up camp near this unnamed body of water.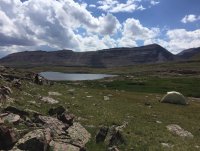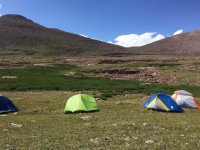 Despite clear skies in July it's been kinda cold all afternoon which lead to snow that evening.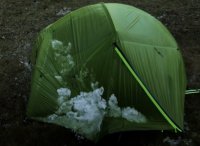 As a side note, I'm really loving my NEMO Dagger tent. 3.5 pounds, two people sleep comfortably, good sized vestibules,
and snow resistant.
Next morning we continued across the upper reaches of Yellowstone basin.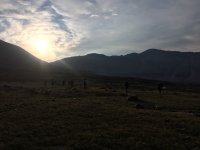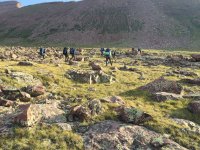 Looking down Yellowstone Basin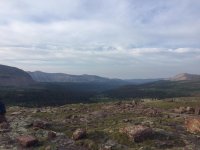 Finally, we began our ascent up the south side of Anderson Pass.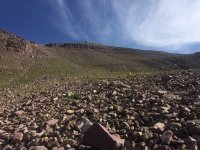 At the summit of Kings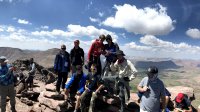 After summiting we short cutted towards Gunsight Pass.
At the bottom of Gunsight Pass.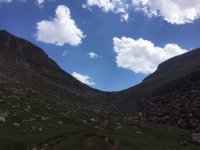 Heading towards Henry's Fork Lake.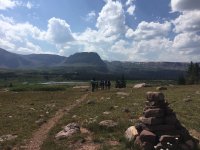 Once we arrived at Henry's Fork Lake we set up camp and then this guy walked through our camp and went into the lake.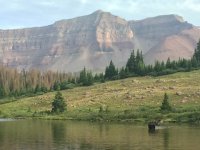 As funny as it sounds we actually got bored with this moose. He walked through our camp into the lake and stayed 20-30 yards from the shore
for nearly two hours.
Next day we hiked up to explore the upper regions of Henry's Fork basin.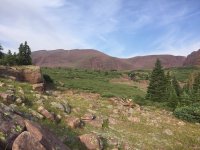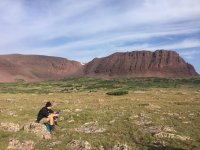 Cliff Lake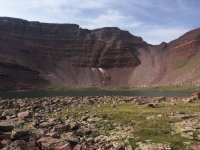 After our morning excursion we decided to move down trail a bit to shorten our exit hike on Saturday.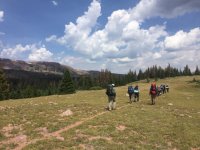 We ended up camping at Bear Lake.
Then it was on the trail for the hike back to the trailhead.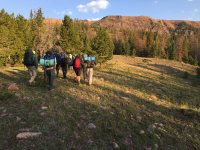 Climbing out of Henry's Fork Basin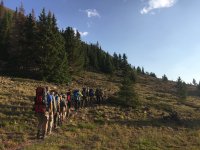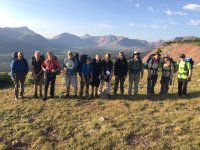 Someone talked us into taking the Big Meadows trail north instead of heading west to the East Fork Smiths Fork Trail.
**ALERT**
All the maps I've studied, show the Big Meadows trail, it's a complete farce. There is no Big Meadows trail.
Don't go that way.
So we bushwhacked north.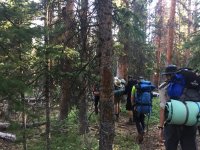 Once we got far enough north we bushwhacked west.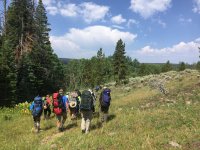 Finally arriving at China Meadows Trailhead.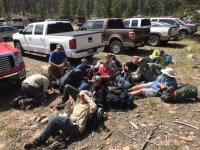 No backpacking trip would be complete without some great pizza at the end of it.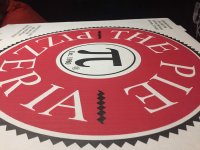 Here's the video:
Last edited: