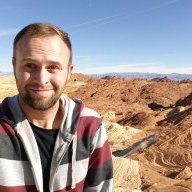 Joined

Jan 19, 2012
Messages

739
Havent posted a TR in a while but last weekend a buddy and I hike/bushwacked a pretty cool loop. In 2009 as part of the Omnibus Public Lands Act several new wilderness areas were created in Southern Utah. One being the Red Butte Wilderness. Like most of the other wilderness most of these new areas were adjacent to Zion National Park basically extending its borders. For anyone who has driven Kolob Terrace Road, Red Butte is the pyramid shaped red butte (obvious why it was named what it was eh?) visible near the Hop Valley trailhead.
I had been to Red Buttes before but never hiking into the north end of the wilderness toward the border with Zion N.P. Our goal today was to get into Zion and hopefully find some awesome views of the peaks of the Kolob Finger Canyons. Mission Accomplished!
In general our route to the border followed a huge drop off into tributaries of LaVerkin creek. Once we arrived at the Zion boundary (surprisingly well marked!) we had to decide what to do. Keep going North or head east and try to get to the cliffs overlooking Hop Valley) We decided to go east which ultimately was a great choice! There wasnt much of a path in general. It involved lots of bushwacking, at points I didnt know if we could get through the oak and manzanita but in general wasnt too bad. Several steep climbs up and out of washes and we even found a pretty solid running spring. Eventually we made it to overlooking Hop Valley and I was blown away! Such an awesome viewpoint and one that I personally have never seen photographed from the vantage point we had found far above the valley! After hangint out on the edge for a while we turned south and found an old cattle road (still can run cattle in Hop Valley) which eventually turned into a still used cattle road with piped in water and everything.
All an all a great backcountry adventure! Oh by the way NO PEOPLE!!