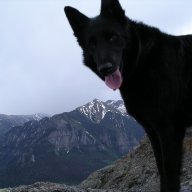 Joined

Dec 14, 2015
Messages

22
Has anyone done a loop hike of the East and Northeast Forks of the Red Breaks Canyon? I am curious what it is like particularly with regard o obstacles.
Last week I did the Cosmic Ashtray (Navel/Pit....) but didn't have enough daylight to try for the loop. Instead, I just went down and up stretches of each starting near their tops (i.e., near Dome 6015 and elevation 5887). I had parked at the end of the driveable portion of the Old Sheffield Road (this spur leaves the maintained road at ~5.4 miles and goes east ~0.9 miles).
Regarding a name for the Cosmic Ashtry - does anyone know what Native Americans named it? I certainly don't like Ashtray but i like it better than Navel or Inselberg (as mentioned in a scientific paper on it
http://onlinelibrary.wiley.com/doi/...ionid=43BE3E5552D91AF3A328B60A91403B7B.f01t04
for abstract and
http://onlinelibrary.wiley.com/doi/10.1002/esp.1697/epdf
for full article). In lieu of a Native American name, I think Cosmic Pit would be better than the other names. Anyway....
Writhdar