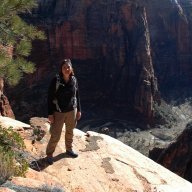 Joined

Jul 16, 2014
Messages

100
This was back in May but here in St George we've been suffering through the long cold winter (a week of rainy days) and permits are coming in for spring so I'm getting antsy. My son and I were out on the Hole In the Rock Road for a weekend and decided to explore Red Breaks including the West Fork. Only one rappel coming down but lots of fun upclimbing and downclimbing. Really a beautiful canyon.
After a sandy slog from Harris Wash we approached the first dryfall. We chose to climb up the wall close by but on our way back we saw that there was a bypass way further back. A boost and a handline made it this way though.
The wall we took up.
Heading up the canyon with small scrambles to climb
Next we head up to the West Fork where things definitely went up a notch as far as upclimbing
Lots of skinny slots
And up climbing in skinny slots
Then we crossed over to downclimb back the main fork. This was the easy part!
Starting down canyon
After the only real rappel. There was an anchor set up at one down climb prior.
A fun little arch to go through
Time for the sandy trudge back
A last view of our initial upclimb