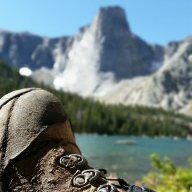 Joined

Jul 6, 2012
Messages

858
I'd been itching to get out and do a spring summit. Having had a busy April and seeing the snow melting quickly motivated me to get out. Always willing buddies Lane, Dave, and Bryce were game to tackle one of our long time Utah Wasatch favorites - Red Baldy!
(Pictures courtesy of
Lane
and me).
We got up early and met at 5:45 am at the mouth of AF Canyon. We drove up to Silver Lake Flat and then took some time to get our gear organized (snowshoes, axes, crampons, and the Swiss Bobs).
Some nice early morning alpenglow on Timp.
We didn't hit snow until above Silver Lake (it was still 95% frozen). Definitely a higher snow line than we're used to this time of year. =(
We made our way up to Silver Glance Lake. The views from above Silver Lake never disappoint.
Our route (to the right) which leads almost directly to the summit of Red Baldy (save for a 10-15 minute ridge hike to the actual summit) comes into view.
Working our way up the wide couloir (if it can be labeled that). The snow was soft and made for good safe steps. 1 out of the 4 didn't even bother putting on crampons. None of us felt the need to get the axes out even when it got pretty steep as we ridged out.
Just made it to the ridge! Sweet views all around.
The knife-edged ridge hike to the actual summit was a little spicier than I had remembered. Dave led the way and made some good steps for us. It still had my attention!
The guys hitting the summit as I take my time on the knife-edge ridge
The summit shot!
Working our way back along the ridge line
Prepping for the glissading (we actually used axes/trekking poles to arrest ourselves down to where we could let 'er rip with the Bobs.
Looking back at our fun slide
Bryce lost his ice axe somewhere just above Silver Glance so he hiked back up to get it. Lane, Dave, and I decided we needed to do some Swiss Bob racing. We hiked up this steep hill about 5 times having fun racing down.
Bryce and Dave manned up and did a Polar Plunge into Silver Lake! Brr!
Another successful Red Baldy summit! THE END.
Featured image for home page: