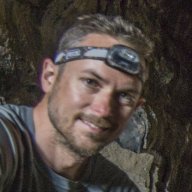 Joined

Jun 18, 2015
Messages

102
Just bought a zpacks Arc Haul to replace my Osprey Exos. My Exos had these small elastic pockets on the shoulder straps where I carried my gopro/grip. The Arc Haul doesn't have these, but I NEED one, haha. All of the shoulder strap pockets that I could find to buy online (ula, zpacks, gossamer gear, HMG, MLD, zimmerbuilt etc etc etc...) are just a floppy pocket strapped on to the shoulder strap. This will not do, I need the elastic pocket to firmly hold the gopro in place. Not just because I don't want it to fall out, but because with it held firmly in place it can be used to film hands free if the situation calls for it. I can quickly take it out of the elastic pocket and don't have to change mounts or anything. I'm not interested in any other setups to carry the gopro, what I had on the Exos was literally perfect for me, and I just want to add a similar elastic pocket to my Arc Haul shoulder straps.
I'd like to get into MYOG gear eventually, but I'm leaving for the GET in a month and have a million other things to do, no time to research sewing machines and fabrics, learn everything I need to do a quality job. I was thinking of taking it to a local tailor, but in my small town in northern Michigan (where nobody knows shit about backpacking), I'm kinda wondering if they'll hack it up. I found a place online called Rainy Pass that does gear modifications, but at $83/hr. Seems a bit steep to me. Can anyone recommend a competent company that I can send my pack out to for some custom work?
Also, on a whim I bought some #1209A LYCRA MICRO MESH & 2311 STRETCH BINDING 1 5/8 inch from quest outfitters just to have a look at the material. I think the Lycra may be the same material as the bulk of the Exos pocket, but not 100% sure. The top of the Exos pocket has a thin band of elastic that seems stronger and much thinner than the stretch binding stuff I bought, so I'm not sure what material that is. If I take it to a local tailor I'll have to have the fabrics on hand, otherwise they'll make it out of leather or something haha. Anyone know what materials I should be looking at for this?