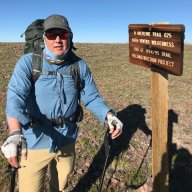 The mountains are calling and I must go
.
Joined

Mar 31, 2013
Messages

1,018
I'm looking for a 35-50 mile route in the Uintas for me and
my teenagers in July of 2019.

I've done from Mirror Lake Highway to West Fork Blacks Fork and Red Castle - Yellowstone - Henrys Fork loop.
I'm doing the Highline solo in August 2019.

Looking at the map I can do derivations of those two routes and get the miles,
but haven't found anything that gets the miles but is unrelated to those.

Do you have a favorite that is unrelated to those and still has some great sights?
If you have a recommendation I'd really appreciate it.