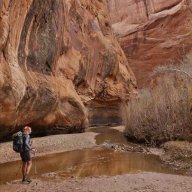 Joined

Jan 4, 2015
Messages

2,727
I settled on a 20 Degree Enlightened Equipment Convert in Wide/Long

https://enlightenedequipment.com/convert-stock/

It has a full length zipper for the colder trips, but works as a quilt for warmer trips or when I have my hammock. I looked at all your recommendations (which I really appreciate) and this seemed to be the best for what was in stock/ship now.

Fully open like a blanket, I put my camera on it for scale and to show the loft. This thing is big.

View attachment 102119

Like a quilt

View attachment 102118

All zipped up like a bag

View attachment 102117

I'll try to remember to update once I've used it in cold temps. Thanks again for everyone's advice.
Good for you! Curious for your take once you've taken it on a few trips.