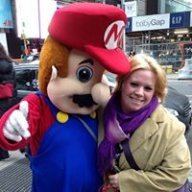 Joined

Apr 23, 2014
Messages

2
Hey you guys,

New here and I only have a few hikes under my belt with the largest being the (i think) 16 mile roundabout trail ramseys draft in George Washington National Forest. I love this park and have had great experiences with the park trails.

Ramseys draft I have taken twice though only once have I taken it through the entire 16 miles. The first hike was with a college class where we all split up into groups of 4. My group consisted of two altheltic people, one slow never hiked person, and than theirs me...the slow and steady hikers high kick in a few miles in type of person.

We started out going to the peak and than going through the ridges to camp at the begining of the draft. Let me tell you something.....The peak was easy. The water crossing was fun. The ridges on the other hand was the hardest thing I have ever done. I had to stop, go, stop, go because I was so unprepared (yet I go to the gym) for this strenious hike. At one point, I ended up getting angry and being the leader of the group because of how fast I ended up walking. I found the hikers high and just marched on with determination to sit my ass down at the nearest camping spot by the water.

The camp site was nice and I actualy slept pretty good all cozy in my super warm sleeping bag on my 3 dollor blow up float aka my cheap version of a camping pad.

On the way back, We found out the hard way that water crossing is not easy in cold weather. The hikeing trip down was awesome though because we banded with another group and everyone worked together to help each other over walking logs, rocks, etc. There are some places unforuantly that you do have to walk across in ankel to knee deep water. Luckily, My shoes easily breathed afterward and dried relatively quick.

Plus side: Theres bathrooms at the ending point!

The second time we took this hike I just made a small in and out by walking the water section up and than back with camp being at a awesome little camp site by the water with rock benchs and a seperate cooking fire pit. I loved this hike. My dog loved this hike. The freind that came with me loved it. It started to snow on our heads while we were still running around in short sleaves. A bear walked into our campsite at 3 in the morning to snuff around at what use to be a nice warm camp fire.

Hahahaha! but it was fun and worth it. All together, I love this hike and plan to go in the summer where I could relax and play in the waters.