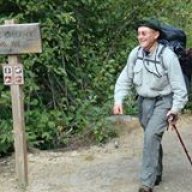 Joined

Mar 13, 2012
Messages

138
Last November 3 of us attempted to do the Rainbow Bridge North Trail as and out and back planning on 3 1/2 days. For various reasons we only made it to Nasja canyon. So this last week we went back to complete the full trail allotting 4 1/2 days. Well we made the 37 miles in our original plan of 3 1/2 long days. The weather was absolutely gorgeous with quite warm days and cool nights with a waxing moon at night. As noted in the quite ancient writeups available the last 2-3 miles of the road to the trailhead is rough and nearly impassable. We did manage to get to the actual trailhead using a Nissan Armada AWD without much difficulty. We did note a couple of groups were shuttled in and they had to walk the last approximately 3 miles as the shuttles do not go to the trailhead.
We arrived at the trailhead Apr 27 Monday evening at about 5:30 pm or so Utah time. The plan was to make it to Bald Rock Canyon. However, we reached a small wash about 2 miles in which had some water and with the sun about to go down we opted to camp at this location.
Eugene Aufdembrink & Charles Lame at the TH
There is a gate to open/close about a mile down the trail. Often the Navajo have used bungee cords and gate fasteners and other times some weird knot systems which are difficult to figure out how exactly to open/close.
There were lots of wild flowers
Monday night camp - a little tight but it works
Tuesday we headed out early with the goal of Oak Canyon. Problem is Nasja Canyon has good camp sites but just not far enough and Bridge Canyon seems too far.
Trip down into Bald Rock - steep switch backs going into the canyon. There is water in Bald Rock (this was to be our Thursday night camp)
Next the climb out of Bald Rock and over slick rock to Surprise Valley and Nasja Canyon. There are some GREAT views here. If you miss then going in you have another shot on the way out.
Nasja Canyon has water and even an old picnic table with a sandy but shady campsite. However it didn't fit into our time schedule to camp. We did eat lunch both in and out at this site. Just about 1/2 mi past the campsite there is a small arch to your right - Owl Bridge.
After this the climb out of Nasja becomes increasingly steep and tiring - just seems not to end. The trail is not bad but a bit rough in places. One of the problems was that while in Surprise Valley/Nasja canyon there was a lot of sand walking so this was tiring even though not that steep.
After the climb out of the canyon there was the usual area of less steep walking before an extremely rocky drop into Oak Canyon. There were switchbacks covered with fist size stones and larger. This was an area before the drop off into Oak. Note the rocky trail area and the definition of the trail by the Navajo with rocks lining the edge.
Another example of wild flowers
My tent down in the "hole" in Oak Canyon. Sites were pretty limited.
Wednesday morning we took the trail out of Oak Canyon (wasn't as bad as coming in) and then over a ridge to the entry to Bridge Canyon. To get into Bridge canyon one has to go down a narrow slot canyon. I didn't get any good pictures as the sun just wasn't right. These don't look that tough but it was not easy.
Once at Bridge Canyon (there is a sign at the campground) we followed the canyon on to Echo Camp - where the south and north trail meet. (we should have dropped our packs at Bridge canyon but weren't sure if we could make it all the way back so we dropped at Echo camp). We then day hiked around to Rainbow Bridge. The whole hike down Bridge Canyon is not difficult but it does require a bit of rocky bottom of canyon walking and of course the sand piles to wear one down. The last part of the hike follows a shelf around to approach Rainbow Bridge from the north side.
Some pictures of Rainbow Bridge:
Me standing in front of the bridge
After visiting the bridge we day hiked back to Echo Camp (would have been an EXCELLENT campsite), picked up our packs and went back to the Bridge Canyon site for the Wednesday night camp. There was a couple on a ledge just past Echo camp but other than that we had not seen anyone on the hike thus far. Wednesday night was spent at Bridge Canyon. Good camp.
On Thursday morning we hiked out of Bridge Canyon retracing our steps. This is a view of the hike out of Bridge via the slot canyon.
At the top of Nasja we encountered 4 hikers. They were having most of their equipment packed in by some Navajo horsemen. Hard to believe that horses (mustangs) are able to traverse this rough of a trail.
Thursday we hiked all the way thru Nasja and over to Bald Rock. This was a very tiring day as the climbs seemed never to end. A few pictures along the way.
Notice the notched sandstone to keep the horses from slipping
We camped Thursday night at Bald Rock
The climb out of Bald Rock is tiring. Good to do early in the morning with shade.
And we made it out about 11 or so on Friday.
A picture or two of the road in - took these while we were moving so not that good. Glad we didn't have to walk the other 3 miles. All in all the hike was a bout 37 miles (gps verified). The scenery is great however, I would not attempt the hike much later in the season as the water was already showing signs of diminishing (even though Navajo mountain - you can see it in the upper left of this preceding picture still had snow.
Hike Recap:
Monday Night - unnamed draw about 2 miles in
Tuesday Night - Oak Canyon - poor campsites
Wednesday Night - Bridge Canyon (after hike to Rainbow Bridge and back)
Thursday Night - Bald Rock Canyon
Friday - out at about 11 am Utah time
This is a challenging hike. One difficulty is trying to time the available campsites. The only real sites are the ones we used (Oak is not much), Nasja good site but didn't fit the plan and Echo Camp.
Great scenery and doing it out and back is not boring as one sees different views from each direction.