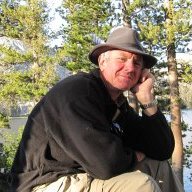 Joined

Sep 30, 2014
Messages

703
Boy, there were a lot of people in the Sierra this last holiday, taking advantage of the mid-week July 4th! But those people quickly discovered that snow levels in the high country severely limited their options. When we stopped in at the Summit Ranger Station on the morning of the 4th the scene was hectic. There was a triage table out front, with volunteers helping the hikers firm up their plans and get more information. Once armed and ready, the hikers then went inside the office to speak to a ranger and get their permits.
And every one of them was going to either Crabtree or Kennedy Meadows trailheads. There must have been a real crowd at Camp Lake, Bear Lake, and Relief Reservoir that night, as all the hikers showed up to the same place at more or less the same time. The rangers even posted a chart on the wall, pointing out that for every permit for Waterhouse Lake, there were about twenty for Crabtree.
On top of that, the creek crossings were being described as somewhere between waist high and chest high, and all hikers were recommended to carry micro-spikes for the snow.
All of this was particularly striking to us, because we had just come back from a three day trip where we hiked less than a hundred yards on snow, never crossed a creek except on a bridge, and saw an average of fewer than four people per day, none of whom were spending the night.
So where did we go? We had called Summit Ranger Station on Monday morning, and asked them which of the USFS roads were still closed to all vehicles. One of them, Herring Creek Road, leads to a nice secluded valley with a small reservoir and tons of side roads and hiking trails as well. So we parked our car near the locked gate and hiked in.
Wonderful trip. The creek was flowing high and fast, but we crossed it on the road bridge built in 1955. We hiked up to Pinecrest Peak for some lovely views, wandered along Herring Creek up to the reservoir, and generally had the place to ourselves. By exploring off road and off trail, we also discovered a mystery trail that seems to run for a least a couple of miles, and that none of the rangers knew about.
https://picasaweb.google.com/109772164667910456753/6710316751542053121#6710316883315073874
What fun! We even found four bottles of non-alcoholic beer from Dubai at one of the campsites. Being good LNT hikers, we drank one and packed the rest out. Not bad with freeze-dried Bibimbap.
And meanwhile, back at the ranger station, nobody wanted to know about Herring Creek. They all wanted to know how bad the snow was, and how deep the streams were past Crabtree and Kennedy Meadows.