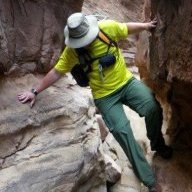 Joined

Jan 17, 2012
Messages

1,659
I got a quick trip in before the snow hit this past weekend. I'd been hoping that the weather forecast would be wrong, as it so often is for this area. There was a chance of snow on Thursday night and an even greater chance on Friday, which is pretty much how it played out. I was hoping to get an early enough start after work that I could watch the sun set from camp, but with the sun going down before 5PM, it happened while I was still driving. I stopped on my way to Cottonwood Wash to snap a few photos of the less-than-spectacular sunset, then continued the drive and arrived at camp just before full-dark. I camped at the same spot where
Chris and I camped last month
and I was pleased to see that somebody had camped there since then and left a pile of firewood. I got a small fire going, opened a bottle of beer, and threw a can of chili on the fire. I ate, drank, and spent the rest of the evening reading a magazine while feeding the fire and trying to keep warm.
Book Cliffs
Not much color, but not a bad sunset either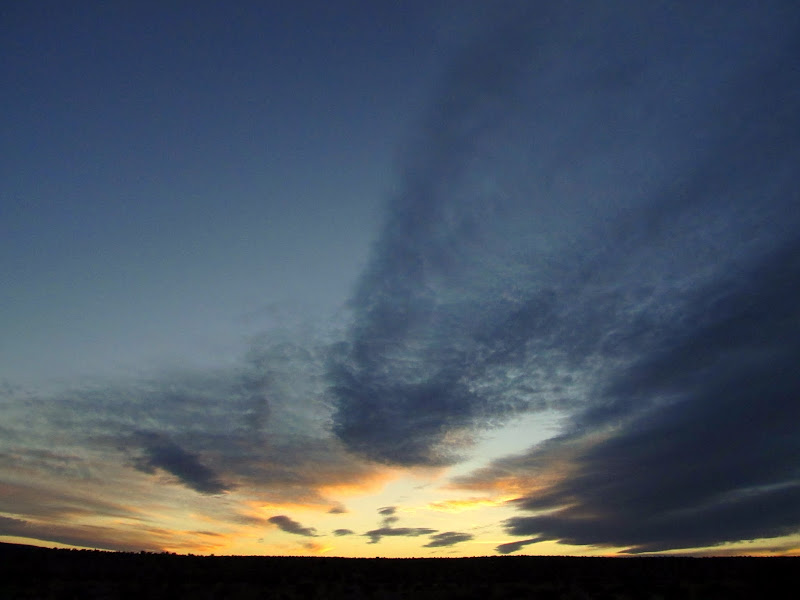 Epic beer and a can o' dinner in the fire
I went to bed around 9:30 and slept fitfully during the night. I heard things going bump in the night, and my thoughts turned toward the
bear crap that Joane had seen in the canyon
a couple of years ago (I'd
seen some myself
a few miles away a year earlier). I guess being there alone made me feel more vulnerable than when I was with Chris a month earlier. Around 4AM I heard small sprinkles on the tent that continued through the morning, though when I crawled out of bed after 7AM it was surprisingly dry still. I heated some water and made oatmeal and coffee while huddling under the hatchback of the Jeep as the sprinkles turned into more sizable drops. Instead of properly packing up camp, I just stuffed my sleeping gear and wet tent into the back of the Jeep and drove down the road less than a mile to where I planned to hike.
Torrey snuggled up in her blanket
Overcast and sprinkling in the morning
I huddled under the hatchback of the Jeep to fix breakfast
Parking spot for my hike
I crossed Cottonwood Wash where it runs just outside of the San Rafael Reef, then hiked into a small canyon. It was a typical Reef canyon, first passing through the Carmel Formation before hitting the upper layers of the Navajo Sandstone as I ascended it. I was planning a long, circuitous route up this canyon, then down another canyon, and if time allowed, up and down four smaller drainages while looking for Indian rock art and old cowboy inscriptions. The rain, however, hampered my ability to even look. My glasses were covered in raindrops which made looking for rock art difficult, and my camera lens got covered in drops each time I took it out as well. The rain turned to sleet as the storm grew heavier.
Cottonwood Wash
Starting up an unnamed canyon
Watercourse cutting through the Carmel Formation
I reached a dryfall that I knew I'd have to climb around, but I was so soaked by then that I felt like I had no chance of having a productive hike. I poked around a bit near the dryfall and found a nice, big piece of chert that had been worked into a rough stone tool. It was the first evidence of natives using this area that I'd found, but that alone wasn't enough to keep me looking for more. I decided to cut the hike short and head home. I reached the mouth of the canyon and climbed out to the south just to take a slightly different route back to the Jeep. On the way I found some chert flakes on the ground and couldn't resist looking for arrowheads on the ground. I ended up hiking around a little more but, finding nothing of interest, returned to the Jeep. I was soaking wet and cold, and the sleet had turned into a full-blown snow storm. I drove home to find more snow in Price than I'd seen in the Swell. I'm glad to have completed my goal of camping at least once each month in 2012, though I wish my final trip of the year wouldn't have been a bust. I guess I still have two weekends left to redeem myself--we'll see how it works out!
A roughly-worked stone tool
A pothole beginning to fill with water
A dryfall that was just beginning to flow
A cairn (and apparently also a bird perch) atop a ridge
Wet doggy
When I got back to the Jeep the snow was beginning to stick to the ground
Torrey during the drive home
Full Photo Gallery:
[parsehtml]<embed type="application/x-shockwave-flash" src="https://picasaweb.google.com/s/c/bin/slideshow.swf" width="800" height="533" flashvars="host=picasaweb.google.com&captions=1&noautoplay=1&hl=en_US&feat=flashalbum&RGB=0x000000&feed=https%3A%2F%2Fpicasaweb.google.com%2Fdata%2Ffeed%2Fapi%2Fuser%2F115479031052354900696%2Falbumid%2F5822626017070718561%3Falt%3Drss%26kind%3Dphoto%26hl%3Den_US" pluginspage="http://www.macromedia.com/go/getflashplayer"></embed>[/parsehtml]
https://picasaweb.google.com/Dennis.Udink/QuickDecemberOvernighter
GPS Tracklog and Photo Waypoints:
[parsehtml]<iframe width="640" height="480" frameborder="0" scrolling="no" marginheight="0" marginwidth="0" src="https://maps.google.com/maps?q=http:%2F%2Fudink.org%2Fgeo%2FQuickDecemberOvernighter.kmz&amp;hl=en&amp;sll=39.499761,-111.547028&amp;sspn=4.907901,10.821533&amp;t=h&amp;ie=UTF8&amp;ll=39.076776,-110.430622&amp;spn=0.015991,0.027466&amp;z=15&amp;output=embed"></iframe><br /><small><a href="https://maps.google.com/maps?q=http:%2F%2Fudink.org%2Fgeo%2FQuickDecemberOvernighter.kmz&amp;hl=en&amp;sll=39.499761,-111.547028&amp;sspn=4.907901,10.821533&amp;t=h&amp;ie=UTF8&amp;ll=39.076776,-110.430622&amp;spn=0.015991,0.027466&amp;z=15&amp;source=embed" style="text-align:left">View Larger Map</a></small>[/parsehtml]
http://udink.org/geo/QuickDecemberOvernighter.kmz
Featured image for home page: