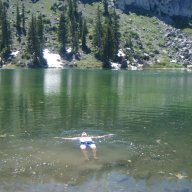 Joined

Apr 27, 2016
Messages

483
I am not sure if this belongs in general or trip planning, but figured I would drop it in this section, if it needs moved feel free to relocate the post.

My wife and I are going to Moab again this year for Thanksgiving and it seems like my in-laws might be tagging along. My mother-in-law has decided at the age of 50 something that she should start working on her bucket list and one item on that list is rappelling. Now why she didn't take advantage of when my wife and I had the equipment and lived near them, and frequented the black cliffs outside of Boise I have no idea. I decided that this trip to Moab could provide an opportunity for my Mother-In-Law to get her rappel in and for the rest of us to perhaps have an intro to canyoneering.

So with that background I was wondering if any of you have any experience with any of the tour guides in the area or have areas that you believe would meet the introductory criteria. We plan to go on Thanksgiving Day so our options appear to be limited. So far the only guide that I have found to be open is Desert Canyon Tours. We are looking at doing either their Desert Oasis canyoneering tour or the Cable Arch Adventure Tour.

Any thoughts would be greatly appreciated. Thanks.