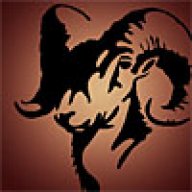 Joined

Feb 15, 2013
Messages

105
Day 1
|
Day 2
|
Day 3
|
Day 4
|
Day 5
Ziff and I went to bed, having decided to take a pass climbing Le Conte, which looked daunting. We slept better for it. Ahhh but when early light shown on the peak, we could see more features and it looked more reasonable. I pointed the difference out. We looked at the peak. Looked at each other....then smiled. I don't believe we used any more words. Le Conte was back on the program.
Ziff kicks steps up the steep part of the snow and sure enough, the weaving passage was reasonable. We were on the summit by 9 AM. On descent, I rapped the steep section of snow, Ziff boot skiied it with ease. Those folks from Canuckastan (Canada) grow up on the stuff.
A descending traverse on snowfields was followed by slipping up and onto a glacier past fearsome icefalls and up onto a small ice cap. Two peaks are right next to each other on the center of this Ice Cap (Le Conte Glacier). Yet we could only do one from this angle. The connecting routes between these peaks is too stout for this moderate climber. Ironically, the two peaks, nary a 1/3 of a mile apart, provided such different experiences.
We kept the glacier rope on and ascended to a steep snow finger on the shoulder of Old Guard Peak. We nervously kicked steps up the steep snow gully. At the end of that, a steep exposed ramp led to easier ground and the summit. Wonderful views and a delightful climb on excellent (for the alpine) rock.
Down, down, down thru a pass and around a snow slope to the opposite and backside of the 2nd peak we saw on the icefield. This mountain is Sentinel Peak. Somehow I failed to let it in, the difference of colour of the two different peaks rock. This one was orange, while Old Guard had been gray. What a difference there was. I will save the dramatics beyond saying that Ziff is awesome and we made use of our experience, got quite scared and nearly turned around. Clawing at decomposing rock while traversing steep slabs with much exposure, is not terribly aesthetic.
With three peaks under our belts, we crossed the South Cascade Glacier and headed through a pass. Steep hard snow awaited. Crampons on and care taken, we descended the way down to what I think is one of the nicest campsites I have ever been to. The three lakes of Whiter Rock Lakes, hangs on a steep slope providing, with amazing views. Some places just "FEEL" magic. What makes something beautiful? I don't know but we know it when we see it, don't we? This place is 3 rugged days from anywhere. We soaked in the evening sun. My pictures don't do it justice. Thirteen hours of hiking, 3 peaks, 3 gallons of water drank. The skies were clear and the way ahead continued to intimadate.
Ziff...What me worry?
Up le Conte
Up top. Baker on the right
View from summit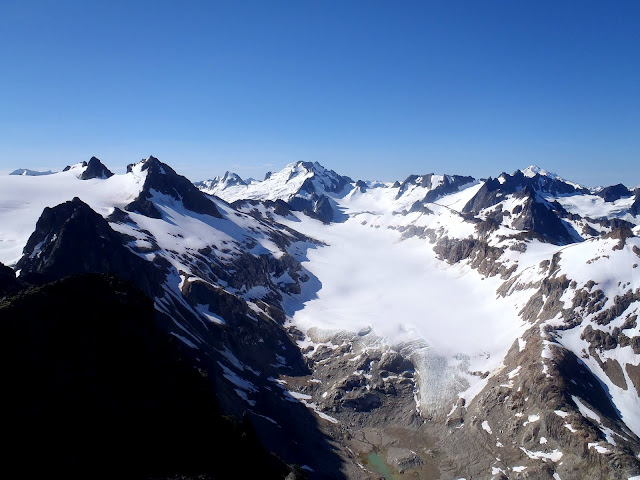 Dome from Le Conte
Commentary in the register
Le Conte Glacier Icefall
U...G....L....Y I ain't got no alibi
Huge glacier arch
Old Guard...the route goes up the steep snow finger below and right of the summit
summit of Old Guard
Ziff and nameless peaks
Loose orange rock on Sentinel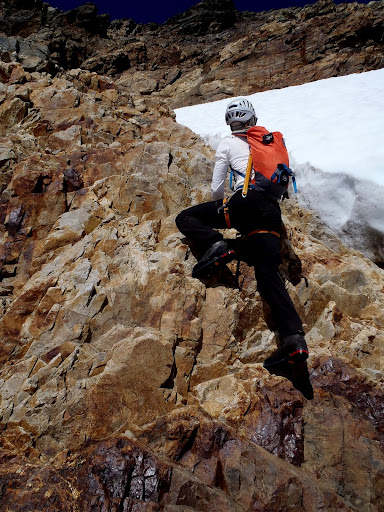 The dangerous transition from snow to rock.
Pensive on the summit
A new friend
White Rocks Lake
Slideshow
[picasa]https://picasaweb.google.com/108034287150978265447/PtarmiganTraverseDay3?authkey=Gv1sRgCMT31-yJksqfOw#[/picasa]
Day 1
|
Day 2
|
Day 3
|
Day 4
|
Day 5
Featured image for home page: