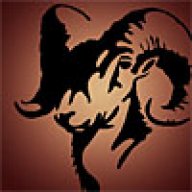 Joined

Feb 15, 2013
Messages

105
Day 1
|
Day 2
|
Day 3
|
Day 4
|
Day 5
Up early the next day, we break camp and slide by the impressive icefalls of the Middle Cascade Glacier and on to the less serious, but not trivial upper glacier. We went thru the pass and down 200 feet of steep snow. After hemming and hawing, we decided to climb the intimidating Mt. Formidable.; The sun was hot, reflecting off the snow and it was a long way and while not overly technical, there were hours of "no fall" and "no mistake" zone, due to steep snow, dangerous transitions to rock and snow and steep scrambling with much loose rock. We made the summit, but saved the elation for getting off the thing safely.
I had climbed the peak twice before, but from here on, to near the end of the traverse, it was new territory for me. Down to the beautiful Yang Yang Lakes, we decided to continue up toward Le Conte Pass. This is a beautiful spot and we were tempted to stop in the golden glow of afternoon, but the siren song called me further and we went up, assuming we would find a high bivy site. We didn't, but I spied a meadow to the west and we set up there below intimidating Le Conte Mountain. As the evening progressed, we discussed how we were so often scared in this range. Having spent over a year of my life, over 19 July's, just brings it home more. Must stay FOCUSED! Le Conte looked frightening, standing steeply above us. We decided that we would give it a pass the next day. I slept better for it. It was 13 hours of hiking and climbing for the day, two hours less that the other two times I have climbed Formidable. The next day would be 100% new country for us.
Morning view out the tarp door
The Icefall of the Middle Cascade Glacier
Roping up for the glacier
Focus on Formidable
View of where we are headed from the summit of Formidable
More summit views, of the glacier climbed that morning
Rare Ram picture. On the summit
Yang Yang Lake
Mt Formidable. Our route. Look at the large snowfield below the summit. look for the "V" shaped extension of snow coming up from from the snowfield, on the left side, in the shade. We climbed the right hand part of the "V" onto the loose rock and up. We got there by traversing from the right edge of the picture.
Boots and heather in the foreground, from camp. Mt. Formidable in the background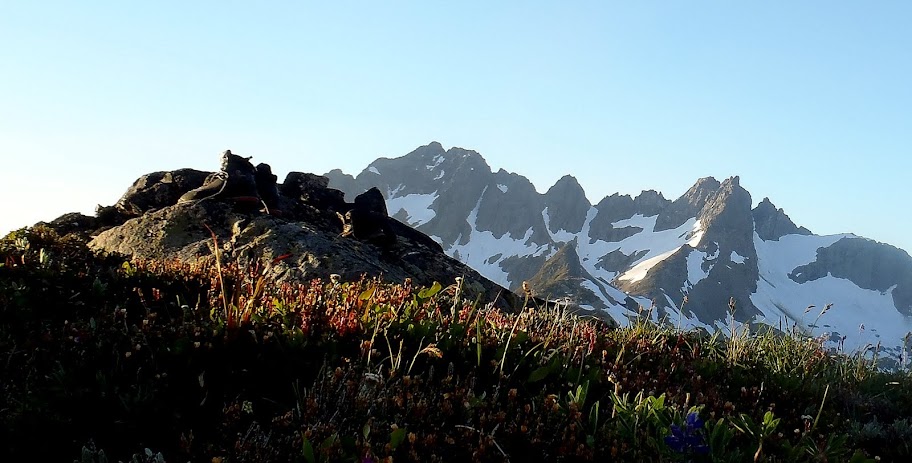 Mt Spider from Camp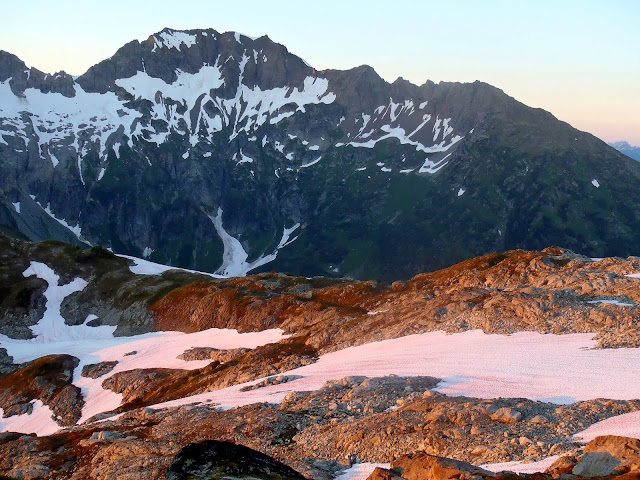 Another day draws to an end
Slideshow
[picasa]https://picasaweb.google.com/108034287150978265447/PtarmiganTraverseDay2#[/picasa]
Day 1
|
Day 2
|
Day 3
|
Day 4
|
Day 5
Featured image for home page: