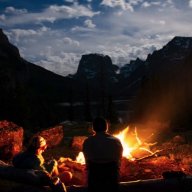 Joined

May 3, 2018
Messages

283
Hello again everyone,
Trip took place 8/10 - 8/11. I just got off a week of on-call duty and was very pent up since I needed to stay within a 1 hour response distance of my place of work I needed to get out badly. The wife worked Friday and Saturday, which I had off, and low and behold a window of opportunity arose near Mt. Baker. Marine winds pushed in and cleared some of the insane wildfire smoke plaguing the PNW for a few weeks. This is possibly my last chance for (healthy) mountain hikes this summer due to the smoke. So I took it.
I started at Heather Meadows and used Ptarmigan Ridge to get to a fun and popular camp spot (camp kaiser) up near the Portals on Mount Baker. Being a friday the trail was packed. I passed close to 50-60 hikers of various ages. I was booking it pretty fast to get a good camp spot up at Kaiser and luckily everyone had the decency to step aside and let me pass through. I made it the 4.1 miles and easy ~800 foot elevation gain within 2 hours (this includes filming time).
Despite the huge day hiking crowds I only saw 2-3 other backpackers. None of them went to camp kaiser. So I had the whole side of Baker to myself, great sunset and some good and excellent star gazing. The whole day was great temperature and no bugs, ZERO bugs. The next morning I smelt smoke and the stuck my head out of the tent only to be greeted by the post-apocalyptic haze. It was back, prematurely (NOAA predicted the smoke to be gone for 2 days, it was only gone for 24 hours). Begrudgingly I had to hike out in the smoke, prolly the equivalent of 30 cigarettes within the 2 hour stroll.
There was an absolute massive amount of backpackers coming in that Saturday morning, into a thick smoke you could only see 500 feet at best. Not worth it. People need to be more comfortable cancelling their plans. I guess if you're in the lung cancer treatment field, start moving to Washington because the cases are going to sky rocket in 20 years.
Enjoyable trip! Despite saturday morning.