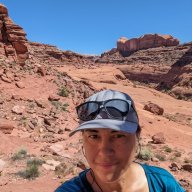 Joined

Jan 11, 2018
Messages

796
I was doing some digging around about Zion NP Research Natural Areas this weekend based off a note in Courtney Purcell's
Zion NP Summit Routes
book and thought I would share the info since it's buried online and somewhat vague. Previously I knew about Parunuweap from
Joe Braun's site
, but not the others and I've seen various TRs (on other sites) where the authors unknowingly hiked or
put up a climbing route
in the RNAs.
The best written description I could find is in the
Zion NP 36 CFR 1.7(b), Compendium 2016
starting on page 8:
Kolob Mesas:
Mesa tops of Timber Top Mountain and Nagunt Mesa overlooking the Kolob Canyons. Also includes the canyon draining west from Timber Top Mountain.
Shune's Creek:
Shune's Creek Canyon below the Navajo Sandstone cliffs along the southern boundary of the park, excluding the administrative zone around the water right diversion.
Hanging Garden:
Five hanging gardens in Zion and Parunuweap Canyons. Includes the immediate vicinities of Grotto Spring, Weeping Rock, Sinawava Hanging Garden, and two unnamed springs in Parunuweap Canyon.
Isolated Mesa Tops:
Isolated mesa tops that are surrounded by high cliffs of Navajo Sandstone. These include Burnt Mountain (south of La Verkin Creek), Greatheart Mesa, Inclined Temple, four unnamed high mesas west of Horse Pasture Plateau, and two closely associated unnamed mesas north of Wynopits Mountain.
Goose Creek:
The sandstone slot canyons of Goose Creek, which drains east from Lava Point and Horse Pasture Plateau. A five-mile long tributary of the North Fork of the Virgin River with deep narrow canyons and perennial stream flow in the lower reaches.
Crazy Quilt Mesa:
The top of Crazy Quilt Mesa and adjacent slopes, west of Checkerboard Mesa
Slickrock:
An area of slickrock buttes, slopes and traverses, south of Clear Creek, east of Gifford Canyon and around the head of Crawford Wash.
Southeast Pinyon Juniper:
An area of relatively deep sandy soils supporting relict pinyon-juniper forests in the southeastern most corner of the park.
Parunuweap:
Includes Parunuweap and most of Shune's Creek Canyons below the Navajo Sandstone, and Transview Mountain above the Navajo Sandstone.
map source