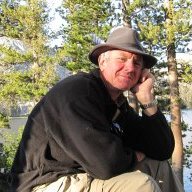 Joined

Sep 30, 2014
Messages

719
The weather was so nice this last weekend that we decided we'd hit the trail again. Last year in April we hike out past Ostrander Lake into the Chilnualna Creek drainage and saw almost no snow. But this year we knew that conditions would be different.
So instead, we headed down into a canyon, and hiked to Preston Falls on the Tuolumne River, below Hetch-hetchy. This is in the Stanislaus National Forest, and part of the Rim Fire from three years ago. The area had been closed for some time, but now it's open, and we were ready for an adventure.
It's a beautiful trail for a spring hike, and the weather fully cooperated with temperatures in the high 60s in the afternoon. By the time we got the to the trailhead it was 10:30, and so we managed to get to the falls in time to eat lunch.
The flowers were out in force, but so was the poison oak. I don't believe I have ever seen
poison oak look so lush. And it was everywhere. We had to be careful not only about where we walked, but where we put our packs, our hands...There was a lot of poison oak.
And there were quite a few trees down across the trail, most of them left over from the Rim Fire.
https://picasaweb.google.com/balzaccom/BackpackingInTheSierraPrestonFalls2016#6269714220500814450
Some had been removed by trail crews, but at least one of them made for some
interesting "hiking" for about twenty feet along a ridge. See the photo here. That's M working her way through the limbs of the tree, and dragging her pack along as she went. There was no way to wear the pack though this section, and she had cliffs both above and below her.
And then there was the river, running high and strong this spring after four years of drought. It was wonderful.
The falls themselves are nice, but not anything like the other falls you can find in Yosemite. But that didn't keep us from having a wonderful time on a trail that never gets above about 3,000 feet. A perfect "first hike" of the season.
And we did think about taking the hike up the river a bit farther. But it was an out and out scramble over cliffs and talus, covered with poison oak, and obstructed with trees. Given the possibilities for real disaster--or at least real poison oak--we folded out tents and headed home.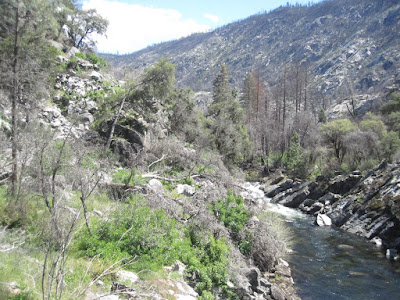 That's all poison oak...dive right in!