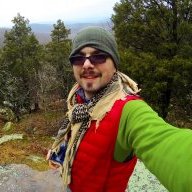 Joined

Jan 21, 2012
Messages

202
Thinking about a trip through NW Arizona. Need any suggestions you got.
It would be me and my family. Think day hiking/car camping. Sadly no deep wilderness trips. I would like to see Petrified National Forest, Tonto Forest, Grand Canyon, Canyon De Chelly, and perhaps Monument Valley.
I would be driving in from the East through CO etc. (I mention that in case you think there's a must see on the way over.) May or not be pulling a pop up camper. I will probably have around 5-7 days to spend once I get in area.
There you go, you got the quick overview. What should I see, avoid, etc.
One of my biggest worries is spending a day or more at an area and realizing that the day would have been spent at a different site.
This is a rough plan of what I was thinking.
Drive to AZ in such a way as to pass by the four corners. Ya I've heard it's a tourist pit, but if I stop for 30 minutes to stretch and say I did why not.
On down to Valley De Chelly. Spend the night? I don't know.
On down over to Petrified National Forest. Spend that night nearby at bit of property I own, or at the park.
Over to NW corner of Tonto. Will I see cooler stuff if I driver deeper in? Not sure what's all there or where.
Up to the Grand Canyon Look over the edge and cry that I'm not hiking down in and across.
From there on up to the Monument Valley as I'm heading out towards home.
Kind of a big Loop. I suppose I could go the other way around the loop if there was a compelling reason, but I just choose clockwise.
Thanks for reading, would love to hear any ideas or input I'm really quite open at this moment.
This would probably be a trip for later this year or next year. Would love to plan it for fall. My kids go to a year around school which means they have longer breaks for Fall, Christmas etc.