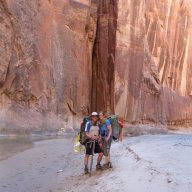 Joined

Dec 5, 2017
Messages

973
Instead of heading to the Winds for our originally-planned trip, we switched gears and drove 9 hours in-state to the Porkies (Porcupine Mountains) in Michigan's UP. We had previously backpacked in beautiful Isle Royale National Park and Pictured Rocks National Lakeshore, and the scenery on this trip was similar - water, trees, and rocks galore! In 5 nights, we had 2 campsites right next to gorgeous Lake Superior, 2 campsites by inland lakes, and 1 campsite next to a cascading stream. The terrain was nothing like what it would have been in the Winds - elevation ranged from 600-1850 ft - but we had beautiful scenery up close and at a distance. We totally lucked out with perfect weather (sandwiched between rainy/stormy days just before and after) and the mosquitoes weren't too bad. It was so nice to get away from what has become "normal" life in 2020...
Day 1 - Government Peak Trailhead along M-107 up to the Escarpment Trail with views of Lake of the Clouds then down to our campsite near the lake (NML 1). In late September or early October, the trees are supposed to be gorgeous, as there are lots of maple, oak, birch, and other deciduous in addition to the hemlocks. When we started, the rain had just ended, and we we got to watch the skies clear over the course of the afternoon.
Up on the Escarpment Trail with Lake of the Clouds off in the distance and Big Carp River snaking down below
Still up on the Escarpment with Lake of the Clouds on the left and Lake Superior ahead on the right
Looking back on Lake of the Clouds - fall viewing is very popular from this spot!
There were many, many different fungi in the woods - these are two of my dozens of fungi photos. It would be great to be a mushroom expert and know which ones were safe to eat. We stayed away...
.
Day 2 - Back up to the Escarpment with an out and back on the top part of Big Carp Trail (great views up there) and then down to the Lake Superior Trail to our fabulous campsite next to the lake (LS 17).
View from Big Carp Trail up on the Escarpment
There were lots of boardwalks in the woods - and we could have used more. There were big muddy patches!
We loved our first campsite along Lake Superior. Spectacular views of this incredible body of water!
Day 3 - Short hike along the Lake Superior Trail to our next campsite (LS 11). After setting up, we did an out-and-back to the Big Carp Trail where the river meets the lake. Went up Big Carp about 1.5 miles to Bathtub Falls and Shining Cloud Falls.
Thimbleberry
Does anyone know what this flower is?
Along the trail
Along Big Carp River
At our campsite
Day 4 - Along Lake Superior Trail then up Little Carp Trail to our lovely site next to the river (LC 6)
This is where Big Carp River enters Lake Superior
Love these - does anyone know what they're called?
Crossing Little Carp River
Day 5 - Little Carp Trail to our campsite next to Mirror Lake (ML 2)
Love these tree roots!
Greenstone Falls
So lush in these green woods
Mr. Toad welcomed us to his home when we took a break before crossing Little Carp River again
Lily Pond
Mirror Lake - warm enough for me to dunk in. I hate cold water and was happy to clean off with more than just a bandana-bath!
Day 6 - Final hike - Government Peak Trail back to the trailhead. Not much of a view from Government Peak. The woods were nice but buggy and probably would be a more exciting finish to the trip had we been there for fall color. Trap Falls (below) was a nice diversion.
A lovely trip, which we wouldn't have done if not for COVID. If anyone from the Midwest is interested in more details, let me know!