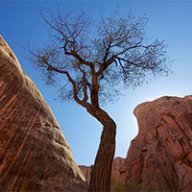 Joined

Aug 9, 2007
Messages

12,940
We're about to launch a Tee Spring campaign to sell a new limited edition Backcountry Post T Shirt design. The Tee Spring option will make it much better than previous shirts we've done for a couple of big reasons. First, you'll be able to pick between cotton, synthetic, hoodies, short sleeve, long sleeve, etc. Second, you pay Tee Spring directly and they handle and ship the order. I don't end up stuck with 20 unsold shirts afterward!
Third, the price is good enough that we'll actually be able to fund much of the cost to operate Backcountry Post, probably for much of a year, depending on how many shirts are sold. On previous shirt sales I did them basically at cost or less and was selling them for about the same price these will cost. Just initial ball park, I imagine these will be around $12 for a cotton shirt and a bit more for synthetic and in the $20's for a hoodie.
I've come up with a design for this new shirt and I wanted to get some feedback from the community as well as a little proof reading to see if I made any mistakes. The theme here is Utah place names. Maybe a future shirt would expand into the surrounding areas, but since BCP is born in Utah, I thought it was a good place too start.
Here is the proposed design. Feel free to critique and suggest improvements and definitely tell me if you see any typos, etc. And be sure to tell us in the poll above if you'd buy one. Click on it to see it larger.
It would be available on a variety of colors. Here's an example of it on orange from a distance: