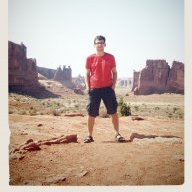 Joined

Apr 20, 2015
Messages

10
Hi guys,
I will be visiting United States for a third time this September and I am planning to go for a bike trip there for wondrous 37 days. I've travelled through Southern utah before by car and tried some hikes there, however I would really like to take advantage of my extensive time abilities this time and not just barely visit the country, but really experience and live the desert through for the most of my stay if possible.
I will be travelling in pair with my friend for the safety reasons - anything can happen in wilderness (yet it have crossed my mind to have the real adventure in isolation only on my own). We really like our bikes and regularly travel long distances (about 100 miles per day fully loaded), hence we are bringing them with us. No car, just bikes. Also, we are quite used to travel really on low buget - just for the cost of food and water.
Long story short, the idea is use our bikes as transportation and ride through as much scenic roads as possible and also include some hiking in backcountry. Hence, should anyone here have some ideas or suggestions, advices, forewarnings etc. we would really appreciate to hear it...
Please feel free to look at the map of our trip:
...and our proposed draft of our day by day schedule:
https://docs.google.com/spreadsheets/d/1kP2TseZLy7SB32xqVEKBain6e5jYTctLIaDs7IxKPC0/edit?usp=sharing
If anyone has the mood to give us any kind od advice, we would greatly value it (since I think that here is the extensive community of utah based ooutdoor lovers). All comments are welcomed.
Thanks for reading my post this far.
Cheers!