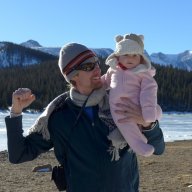 Joined

Mar 18, 2014
Messages

110
Hello Backcountry Post! I live in Colorado but am planning to drive out this summer to Park City for a chance to stay at a timeshare near the Canyons resort. We have 2 little ones that will be 5 and 3 this summer. We're hoping to do some easy day hikes and entertain the kids as much as possible. There will also be a chance for my wife and I to do some more strenuous hiking as we'll be having the grandparents fly out from the East Coast. They'll fly into SLC and we'll spend 4-5 nights in Park City. We also have the opportunity to extend the trip at a timeshare in Eden, Utah (if that's worthwhile). Any ideas? After the time in Park City I plan on driving through Vernal, Utah to Dinosaur National Monument, then back through Steamboat Springs and Grand Lake area Colorado on the way back home. No sense in driving I-80 both ways!

So my question is - what are some day hikes with kids and grandparents that would get us to some great spots around this area. We're not afraid to drive an hour or so in any direction to get to it. What would be your top picks?

And....is Eden, Utah a worthwhile destination?

Thanks for any help you may offer. The trip reports on this site are great for planning and I plan on putting in some time to do my planning from all of the great reports I've bookmarked.