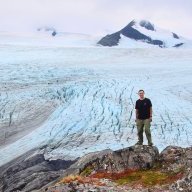 Joined

Apr 21, 2017
Messages

120
Disclaimer: These photos and my report are from September, 2014.
The Pioneer Ridge Trail is a strenuous route up Pioneer Peak, about an hour's drive from Anchorage, AK. The trail is easily accessible, as it starts right by the parking area. There is now a $5 parking fee.
The trail is well-maintained, by Alaska standards. That is to say, it is easy to follow, but fairly narrow and prone to be muddy. The first several miles particularly, are in the woods and can be quite slippery -- thankfully there are typically branches to hold onto. The elevation gain on this trail is constant -- I believe it gains 5000 feet over 5 miles. As tiring as the uphill was for me, it was on the way back down that I really understood and felt how steep the trail was.
The first two miles are in fairly dense woods, without much to see. However, once I got above the treeline, the view was spectacular.
Knik Glacier is easily seen in the distance (even easier with a telephoto lens!)
After several more miles with this view, I made it onto the ridge, and the trail leveled out quite a bit.
The summit of Pioneer Peak, which had been obscured up to this point, soon became visible.
The Pioneer Ridge Trail is appropriately named, as it does lead to the ridge and then follow it. However, the trail ends as the ridge makes a sharp right and heads up to the summit. However, it was not difficult to continue on. Care was taken, as the rocks were sharp and often loose.
In the distance, I was able to see a new (to me) glacier. Looking at map later, I'm guessing that it was the Hunter Creek Glacier, but I'm not positive.
I have read that it's possible to climb the North Summit of Pioneer Peak from the ridge (not the true summit, but still a worthwhile goal), and the closer I got, the more I wanted to go for it. However, I was worried that I would run out of time, so I turned back around this point.
One last photo, looking northwest towards the confluence of the Knik and Matanuska Rivers.
GPS Track:
Last edited: