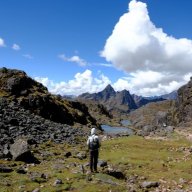 Joined

Jun 10, 2020
Messages

205
I have been wanting to go the San Juan's for what had seemed like forever. I think the first time I had gotten interested in them was watching videos of the Hardrock 100 and naturally I had been planning on doing a hike that would have taken me on at least a section of that race. I had known that we were going to go to the San Juans for the 4th of July weekend and had a few ideas of potential hikes. As we got closer to the weekend I noticed that the weather forecast wasn't looking great. I know you basically get thunderstorms every afternoon there but the forecast was making it sound like it was going to be worse than usual. Because of this, I decided to do something that would keep us down in the trees more. In the end only one storm came over us the whole weekend so I'm continually losing what little trust I had in weather forecasts. Maybe the storms were worse in other areas but at least where we were they never really happened.
It ended up being me, my wife and my dad on this trip. We stared and ended at the Pine river trailhead. Making it mostly a loop by going up Lake Creek and then coming back down Flint Creek. The whole trip ended up being about 42 miles over the 3 days.
Day 1: Pine River Trailhead to Moon Lake ~16 Miles
The first 6 mile of the trail were all pretty flat and through the trees as we hiked towards the junction to Lake Creek. There were some cool moments in this section and we were able to get some nice views of the mountains around us.
The trail quickly got steeper as we went up Lake Creek and this is when the heat really kicked in. I wasn't really prepared for the heat here. I had thought I was coming to the mountains in Colorado to escape the heat. Even up at 12.000 it was still hot. I guess there wasn't really any way to escape that heat wave we had that moved through the west.
Most of the trail before emerald lake was through the trees but we did get some moments where it opened up we again got some nice views of the mountains around us.
Our first view of Little Emerald Lake and Emerald Lake
We stopped and ate lunch on the shores and took in the views of the incredible lake.
Looking up canyon where we would be heading.
Once we started walking along the lake, I realized just how big Emerald lake really is. It felt like we were walking past the lake for so long.
This was really the only time we got rained on a little while on this trip as well. We did time it pretty well though. About 20 or 30 minutes after we left our lunch spot the storm rolled in and looked like it was really dumping rain down just where we were. We got a little lucky and were just on the edge of the storm.
After passing Emerald Lake, the canyon is more free of trees and we were rewarded with even more views. The trail was also pretty flat for the next couple miles.
The trail was a little overgrown in areas but nothing bad at all
The start of the climb up to Moon Lake
Another view of where we are heading.
We ended up getting the Moon Lake around 5PM and were the first group there. After an hour or two we started wondering if we might be lucky enough to have the lake to ourselves that night but shortly after another group arrived and not too long after them a group with 7 or 8 horses arrived as well. One more group showed up right as it was getting dark but I was glad we ended up getting there first because we got a great site at the lake. I generally never hike with fishing stuff but this lake would have been the perfect lake for fishing. I don't think I have ever seen more fish jumping in a lake then there were here. I also felt like I could almost just grab them because they would swim up fairly close a few of the times I went to get some water.
Day 2: Moon Lake to Pine River ~15 Miles
I think that most people that come up here either stop at Emerald lake or Moon lake because the trail wasn't as well defined from here up to the pass above Rock Lake.
Half Moon Lake
Once we reached the pass we got a pretty amazing view looking back towards Half Moon and Moon Lake.
The view off of the other side wasn't too bad either.
We were following some cairns down the other side of the pass and eventually they disappeared so we ended up just going straight down. When looking back up we realized that we just missed a switchback.
We ran back into the trail near this tarn
Another View of Rock Lake
From rock lake we made our way over to pass to get to flint creek. There was a nice little lake at the pass and a few more as we made our way down to Flint Lake
The trail didn't actually give us a very good view of Flint lake so we walked over to the lake to get some views and filter some more water.
We walked down canyon for about 2 miles before we decided to stop for lunch. About 5 minutes after leaving lunch I looked up and saw a bull moose off the trail. I didn't even know there were moose in the San Juans. It makes sense that they are, for some reason had just never thought about it. I'm a little mad I only took one photo because the one photo I took was a little blurry. It had been a disappointing trip as far as wildlife had gone. I had seen 2 deer at this point and a ton of Marmots. But seeing a moose definitely made up for this a little.
Going down Flint Creek took us way longer than we had anticipated. There was an insane amount of trees down along the trail. For probably 4 miles down flint creek, I don't think we ever walked more than a minute or two before running into something like this. Most of them weren't too bad to go around, over or under. But the sheer number of how many times we had to do this really added up. On day 3 we ran into someone on horseback who told us that the forest service hadn't cleared out this trail in 4 years. Said they get too busy clearing other trails in the area that are more popular like the trail up to Emerald Lake.
I still had a great time going down flint creek. It's hard not to when you are in places like this.
The last two miles down flint creek were must faster going and didn't take too long to get back to the Pine River. We did pass by the Pope's nose which I guess is the highest granite cliff in Colorado. At least that is what I read somewhere.
We decided to hike 2 more miles down the Pine river before looking for a campsite. Not too long after we reached the 2 mile mark we found a really great campsite by the river.
I decided to go take some photos at sunset at the river. I found some nice rocks that let me get right out into the middle of the creek (after I slipped in and got both my feet wet). As soon as I sat down I realized that there were SO many bugs. Surprisingly, I sat here for 30 minutes though and they did not seem to bother me. Still not sure why that is. I thought about editing out all of the bugs in the sky on the photo but I kind of like them because it reminds me more of that moment.
Day 3: Back to the Trailhead ~10 Miles.
Day three was a pretty easy day. The trail was pretty flat and smooth and so we just cruised through the miles. The first few miles of this day were the best as there weren't quite as many trees and we got to walk through some nice meadows.