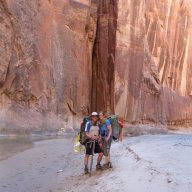 Joined

Dec 5, 2017
Messages

906
As requested (
@John Morrow
) here's a TR from our Pictured Rocks trip a few years ago (June 2017). Pictured Rocks is a long, narrow park along Lake Superior with wonderful rock formations, gigantic dunes, waterfalls, sandy beaches, streams, forests, a lighthouse, etc. The first time our family went in 2008, our boys were young and we just did short hikes and the boat tour out of Munising where you can see the rock formations from the water. On this trip, we went with another couple and hiked most of the 40-ish mile trail along the coast. Since we had two cars, we left one at the Munising Visitor Center where we'd finish at the western end and drove to our start at the Log Slide near Grand Sable Visitor Center at the eastern end. The trail has almost no elevation change. Occasionally you go along a road or by a campground, but most of the time you're along the edge of the cliff, down on the beach, or in the woods. There were some very muddy sections in the woods! Campsites were reserved in advance.
Day 1 - Start at Log Slide and hike to Seven Mile (9.1 miles)
Day 2 - Seven Mile to Chapel Beach (11.6 miles)
Day 3 - Chapel Beach to Cliffs (10 miles)
Day 4 - Cliffs to Munising (6.4 miles)
Here are some pics of the scenery. (There were some great shots with our friends, but I don't feel like getting their permission to post so am only including these.)
Grand Sable Dunes
Down by the water
Chapel Beach
Fabulous tree on top of Chapel Rock (the photo doesn't show it well, but the roots are to the right of the rock, spanning the empty space to the adjacent land)
Views from our campsite near Chapel Beach
Tannin makes the river water reddish brown
If I remember correctly, these scenes are at or near Grand Portal Point
Spray Falls
Miner's Castle
Lots of beautiful flowers and fungi in the woods. I was excited to see Lady's Slipper!
We went through a LOT of mud. This was our end of trip photo!