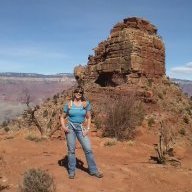 Joined

Oct 1, 2012
Messages

957
This is my first trip report and since I just finished the long drive back from Utah I thought I'd share just the highlights:
Day 1-Zion fall colors. Yes, there still were some left!
Zion
by
Laura Zirino
, on Flickr
Day 2-The Narrows. No, I've never been until now. The Narrows is like Yosemite; no matter how many photographs you see it still blows you away with its beauty. There were so many beautiful compositions that I wonder what I missed. It was an overcast day so no glows off the walls but still plenty of gorgeous scenery:
Autumn in The Narrows. Explored-thank you!
by
Laura Zirino
, on Flickr
Day something or other: drove to Capitol Reef hoping for some snow, but instead I got the dreaded clear skies, plus freezing temperatures even in the middle of the afternoon with a biting wind. Too cold to hike but there was still some color on the cottonwoods. In this picture the wind was blowing the leaves around like snowflakes:
Snowing cottonwood leaves, Capitol Reef
by
Laura Zirino
, on Flickr
Since Capitol Reef has some of the darkest skies in the U.S. I really wanted to try to shoot Chimney Rock at night but it was too cold and I would have had to take the shot from a hilltop in now 20 degree weather (or below). Instead I picked a spot by the side of the road so I could wait in my car while it got dark. I was wrapped in layers like a mummy and I could still barely stand to get out and take shots. I finally gave up after 15 minutes or so and called it a night. I wasn't terribly happy with the shots I got but after I posted this one on flickr it's become my most favorited shot so apparently it was worth it!
Moonscape under the stars, Capitol Reef. Explored-thank you!
by
Laura Zirino
, on Flickr
I was disappointed to see all the development going on around Capitol Reef. There are numerous graded roads now and marked with road signs. One of the best things about this park is its wildness, and it would be tragic to see it go the way of Zion, Yosemite, etc. Does anyone know of a good organization dedicated to preserving the wild lands of Utah? I was thinking of making a donation to the Southern Utah Wilderness Alliance (Association?)-anyone know if they're good or if there's a better organization?
Next day back to Zion. Back in May I took a workshop with David Muench and one of the participants was a composer. He was one of the most original and creative thinkers I have ever met, and he emphasized that if you want to improvise you need to practice your scales, and the same goes for photography. He would go out and look for leading lines, interesting compositions, etc., to keep his skills up. So today I practiced my scales, following an unnamed wash just to see what was there and what I could create. For my last shot I wanted to shoot an iconic Zion scene. I have never seen that crooked tree shot at night so I gave that a try. Here's what I got:
Iconic Zion
by
Laura Zirino
, on Flickr
Can't wait to go back!
Featured image for home page: