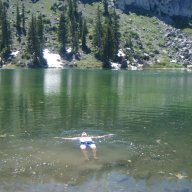 Joined

Apr 27, 2016
Messages

357
Continuing on with my trail running adventures I discovered a trail located just outside of Brigham City. I have lived in this area for 11 years now and I didn't even know this place existed. It is not well marked and the trail is often hard to find, disappears at times, and merges with atv trails. Even with all of that it is nice to have something that is a bit closer than Logan Canyon or Antelope Island.
I started off along a gravel road and then saw a single track trail off to my left near a creek so I cut through the brush and connected with the trail and began running. It was nice to have some shade. The trail then ran into ATV trails and then I found the trail again, and then back to atv. Eventually the ATV trail completed ended and turned into some quality singletrack. The trail had some sections with large loose rocks and a few downed trees but overall was very nice and mostly shaded.
Two miles into the run all of the sudden I hear this crazy screaming sound and suddenly charging toward me down the trail is a female turkey with her wings spread out. She is screaming and charging toward me so I turned around and ran a ways back down the trail. I tried to get a picture but every time I got to where I could see her she started chasing me again. Eventually she headed into the trees, yelling at me the entire time. I quickly ran past the this area hoping that was the end of my encounter.
I ran a about a quarter mile past this and suddenly it seemed that the trail disappeared. I discovered a camp site and noticed huge piles of mine tailings. I had read online that there were some abandoned graphite mines in the area so I scrambled around a bit and discovered two small openings. I could have entered if I felt like crawling but after seeing the carcass of a medium sized rodent outside I decided against this. I swear I could still hear that turkey and was concerned that maybe there was a ravenous flock of carnivorous turkeys in the area. Eventually I ran out of areas to explore and started heading back. I then discovered that I had ran past a large mine opening right before the campsite. It was large enough that I could walk in a ways, but without a good flashlight I didn't go far. There were some painted handprints and initials from 1966. It seems that the paint must have had a fair amount of iron in it because it was rusting and flaking. It was a bit creepy being around those mines. I was only 2.3 miles from the trailhead but with the sounds of the creek and wind I couldn't hear any human sounds other than the ones I generated. I don't typically get out by myself so there is usually my wife or someone else making some sort of sound.
I started running back towards the trailhead and was being careful of the area with the turkey. When I got close I heard the yelling again. Then I saw a large form rise from the brush and land on a slender branch high in a tree. The turkey continued yelling and me and I was worried I might get dive bombed. My phone wouldn't zoom well enough to get a picture. I stood there for a while trying to decide what to do and then with a mighty scream the turkey took flight and soared across the creek. I quickly ran past.
It didn't take too long before I got back to my car and ended the adventure.
A link to the map
https://drive.google.com/open?id=1Nucr2UhUNh8kJ_q4QeSEpm9oaK4&usp=sharing
Wildlife Encountered
Several Small Lizards
Squirrels
Crazy Wild Turkey
Gopher Snake (That I leapt over worried it might have a rattle)
Gear
Salomon Speedcross 3 shoes - This trail put them to the test. Scrambling up and down those tailings piles was a bit sketchy but they held awesome
Osprey Rev 1.5 - This pack rocks, snug on the back, no swaying, minimal sloshing and holds a few snacks and small first aid kit.
Garmin Fenix 2 - This watch has been fun to play around with. I love having gadgets that help motivate me to be active.
Details.
Distance: 4.35 miles
Time: 1 hour 29 minutes (This could have really been shaved down if I didn't encounter the turkey or spend so much time exploring the mines)
Elevation Gain: 1,194 ft
Max Elevation: 5,568 ft
And here are a few pictures.
Last edited: