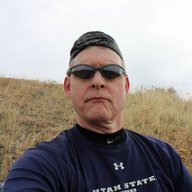 Joined

Dec 23, 2013
Messages

3,017
Headed to the west desert with my wife yesterday to summit the second highest peak in the Lakeside Range. The hike consisted of making our way through Vindicator Canyon, where we stopped at an old lead and zinc mine to look around, before heading further up canyon. Eventually, we climbed out of the canyon and made our way up to a ridge and followed the ridge north and then west to the top of unnamed peak 6551.
Solitude was the theme for the day as we saw no one else the entire day. While the day was sunny, the wind blew steadily all day which made it quite chilly when we weren't hiking up hill.
Almost to the trailhead - looking southwest towards Craner Peak which is the highest peak in the range at 6625 feet.
Unnamed Peak 5546 at the entrance to Vindicator Canyon

Peak 6551 at the center of the image. A little over three miles to the summit.
Heading into Vindicator Canyon

Passed a lot of burned Juniper along our route
Craner Peak
A Juniper that survived the fire
Unnamed Peak 5861
Our first wildflower of the hike - Arrowleaf Balsamroot - This was the only one we saw all day
Some red rock in Vindicator Canyon
Old foundation near mining site
Checking out the old mine shaft
Looks like it goes a long way down
Sheila, making her way up Vindicator Canyon
Peak 6551 - seen as we are making our way out of the canyon and onto the ridge
Low Cryptantha
Views starting to open up to the east


Obligatory mountain shot.
Stansbury Island and Castle Rock - our hiking destination two weeks ago


A couple of steep hills coming up
Making our way north along the ridge
Phlox
Sheila, making her way up to the ridge - unnamed peak 5927 behind her

Almost on top of the ridge - Stansbury Island in the distance
Craner Peak again - some snow left on the upper northern slopes
The final push
View to the south from the summit of Peak 6551
View to the north along the spine of the Lakeside Range, from the summit of Peak 6551
View to the west, with Puddle Valley below and the Grassy Mountains in the distance
Sheila, just off the summit (the post is the summit marker) - time for lunch
Brown's Peony, near the summit
A nice look down Peepstone Canyon
We descended down a side canyon to Vindicator Canyon and ran into this adit in the side canyon
Looking down the side canyon
View down Vindicator Canyon
Back at the old Jeep
View of the Stansbury Range on our drive out
The End