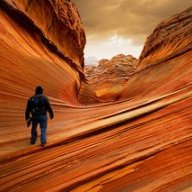 Broadcaster, formerly "ashergrey"
.
Joined

May 5, 2012
Messages

1,724
Kane County SAR and Utah DPS helo are searching East Fork of the Virgin for two missing women. They were on a three-day backpacking trip through the Barracks but failed to return Sunday, August 25. Family members reported them missing. The women are in their 50s and were driving a vehicle with Texas license plates.

North Fork of the Virgin experienced high flows from significant rain on Saturday. SAR doesn't believe the women are in danger from flash flooding (which doesn't make sense to me, since the danger would depend on where in the canyon the women were when the rain hit) but fears they could be out of food.