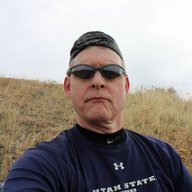 Joined

Dec 23, 2013
Messages

3,159
Hard to believe that it has already been three years since I last hiked Parley's Ridge, but it has. The hike has changed a bit since the last time I did it, due to a gated community being built at what used to be the trails end. This slight inconvenience adds roughly 2.5 miles to the total distance, as you have to hoof it on the Shoreline Trail a ways to get back to the new trailhead.
My daughter and I started at the top of Emigration Canyon, about 6:45 am and headed west, first summitting Dale Peak on the eastern side of the ridge. After Dale, we made our way west towards Perkins Peak. Once we reached Perkins, we stopped and ate our lunches before continuing on. After Perkins Peak comes the scramble section of the hike, along with some bushwhacking when it wasn't exactly clear where the trail goes.
All in all, it was a good hike. It took us 8 hours and 57 minutes to complete, which included a break on Dale's Peak, lunch on Perkins Peak, and one more short break before we headed off the ridge and down to the Bonneville Shoreline Trail. Conditions were smoky, from the fires in Canada so visibility wasn't the best. Wildflowers were in bloom along the entire route, once again with balsamroot down low, and glacier lilies higher up. I thought that we would see more larkspur, but we only saw a few plants near our starting point, and a few more down along the Shoreline Trail.
This was a hike that featured the horny toad, so you'll get to see all the shots I took of them along our way. I think we encountered fourteen of them.
Also, the cameras we took were the Canon EOS 40D, a Canon Powershot SX730 HS, and last but not least, a Canon Powershot SD100. Now speaking of cameras, I had the 40D clipped to my day pack's shoulder strap, and I was foolish enough to not take the camera strap off, which meant that I would take two steps ahead and then one step back as the strap caught on a branch of scrub oak and pulled me back.
I was cussing like a sailor before too long.
No one ever said that I was the brightest bulb in the package.
I thought @Rockpskipper was supposed to remind me to take the strap off, but I think she's off buying some camper or something and it probably just slipped her mind.
Ready for a fine day on the ridge
About as good a shot as I could get across Parleys Canyon with the smoky conditions, looking towards Mount Aire
Spotted stickseed was common along the route
As was ball-head waterleaf
A few deer early on
Vetch was common too
More vetch
The old Jeep road will lead us to the base of Dale Peak
The road to Grandeur.
The knees didn't want to cooperate on the way up to Dale
Dale Peak ahead
A bumble bee enjoying itself
Larkspur - one of only a few plants that we saw
A western tanager, with Grandeur Peak summit as a backdrop, and Mount Olympus even further in the distance
A look back the other way through the smoke, towards Grandview Peak
Glacier Lily
Spring beauties
The first of many horned lizards
Looking back towards Little Dell Reservoir
Another horned lizard
More glacier lilies
And you guessed it, more horny toads
Approaching the summit of Dale Peak
I think i can, I think I can.
A little slippery, but no too bad
View to the west from Dale's Peak, and the route we will be taking after a snack break on Dale.
Time for a snack
And a summit picture
Low cryptantha
Another toad
Heading west from Dale's Peak at this point. Can see Perkins Peak towards the upper left of the image
A normal lizard for a change
Perkins just above
Couldn't go long without one of these.
Arrowleaf balsamroot
Looks like an opening in the scrub oak where elk had bed down
Perkins Peak - Let the bushwhacking begin
The Beacon on top of Mount Wire, across Parley's Canyon, through the haze
And what do we have here?
Bushwhacking to the top. I'm ready for some lunch.
Elk scat, and nasty camera strap.
Did I say earlier that I was ready for lunch? Pace has slowed to a crawl.
The actual high point of the ridge, with Grandview beyond
Lunch time! And you know what that means don't you? Hardtack! I had to soak this one for 22 minutes before I could enjoy it!
A visitor for lunch, a spotless lady beetle just might want some hardtack
Perkins Peak summit shot
The rest of the ridge to the west of Perkins, with the scrambling section ahead.
Making our way through the scramble zone
Scatman's pace has slowed to a snails crawl at this point
Heading back to the top of the ridge, I think.
Whew! the end of scrambling.
Looking back on the scramble section
Katie posing with Perkins next to her left arm. We've made some progress since lunch.
A Utah violet
Looking across Parley's Canyon again, with I-80 below and Grandeur and Church Fork
Peaks on the opposite side, and Gobbler's Knob and Mount Raymond in the far distance.
This little guy was doing pushups on the oak branch, regulating his heat. The day was beginning to get pretty hot.
Not out of the bushwhacking business just yet. Our fortunes were about to change for
the better though.
Looking back on where we'd come from, with Perkins Peak in the upper center of the image and Dale Peak below it in the distance
Service berry
Back on trail with a miserable view of the valley below
A view up Parley's with Mount Aire in the distance
I know, you haven't had enough of Grandeur yet.
Praying mantis egg sack perhaps?
First paintbrush of the hike
Ah, the Shoreline Trail below. A hot walk back up that to the Jeep for sure.
A hillside full of arrowleaf balsamroot almost made me forget about the smoky air.
Longleaf phlox
Vetch
On the Shoreline Trail with 2.5 miles to the Jeep. It felt like it was 90 degree, and looking up an unnamed draw where we were
earlier.
Fleabane
Pencil Point above
More phlox
Honeysuckle? Near trails end.
Evening primrose
Back at the Jeep - For
@TractorDoc
In celebration of the accomplishment, a combination pizza
And my last Big Bad Baptist Imperial Stout
Eat, drink and be merry.
The End.
Last edited: