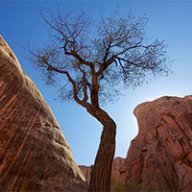 Joined

Aug 9, 2007
Messages

12,940
Paleo Meals To Go: Freeze dried, natural, gluten-free backpacking meals
My Rating: 4 out of 5 Stars
Price: $12.99/each direct from
Paleo Meals To Go
, or 3-packs for $36
The good folks at Paleo Meals To Go sent us out a variety pack of their freeze dried backpacking meals to try out. Obviously these are going to have big appeal for people on the paleo diet, but they may also be worth looking at for those who prefer to eat gluten free, or just want to stick with more natural ingredients that don't have all the funky additives that a lot of backpacking food has.
I sampled three flavors from them; Beef Mountain Stew and Savory Chicken & Vegetable dinners and their breakfast meal, Coconut Berry Breakfast. It looks like they have come out with some additional flavors since I tried the product late last year.
Overall I was very impressed with the product. The texture and flavor is much more consistent with quality, home cooked food. The first time I tried it, I cooked up a pack of their Beef Mountain Stew alongside a packet of Mountain House Beef Stew. The difference was tremendous. They both taste good, but the Paleo Meals To Go meal was much more satisfying. My only complaint is that their seasoning is sometimes inconsistent with some very strong pockets here and there. Shaking the product better before preparing might fix that.
Mountain House and Paleo Meals To Go, side by side
​
For comparison, Mountain House Beef Stew ready to eat
Paleo Meals To Go Beef Mountain Stew ready to eat
​
The lack of preservatives, gluten and other non-paleo, potentially gut-busting ingredients is the obvious draw, and in that respect, these can't be beat. The texture and flavor of the meals was as good or better than any other freeze dried meal we tried. The meat in particular seemed much more real and less spongey and fake than most other meals.
The berry breakfast was phenomenal. Even for non-paleo eaters, it's hard to beat. Say goodbye to oatmeal!
The brown paper packaging is narrow and compresses easily. It seemed to take up less space in the pack than typical freeze dried meals.
The Savory Chicken & Vegetable was juicy and tender. Nothing like previous freeze dried chicken we've tried.
What would we change?
​
The seasoning inconsistencies are a slight problem, but like I said, better shaking before preparation could solve that. Unfortunately we didn't have enough samples to to find out if it was an isolated issue or widespread.
The meals might be a little small for some people. I'd like it if it was increased in size by about 20%, or closer to a '2 serving' Mountain House type meal.
Price is a big problem. At $12.99 per meal, it's hard to justify for people who backpack a lot. If you get out a few times per year and eating well is important, then it's well worth considering. But for those who spend a significant time on the trail, the price makes this product hard to justify. We acknowledge that you get what you pay for - more protein and from higher quality sources is not cheap, but $13 per meal adds up fast.
Coconut Berry Breakfast before adding water
Conclusion
​
Paleo Meals To Go has a great product and offers an excellent option for paleo eaters and anyone looking for high quality, gluten free, natural freeze dried backpacking meals. As with any new niche industry, costs can be high starting out which will limit the product for many. We're looking forward to seeing where they take things and hope that increased interest and competition can drive prices down to a level that is more reasonable for a wider audience.
The Coconut Berry Breakfast was the highlight of the samples we tried
​