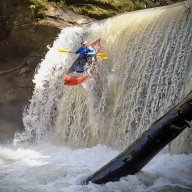 Joined

May 3, 2013
Messages

556
What was supposed to be the first real overnight test with the new pack and packraft ended up to be a very long, exhausting yet rewarding day trip. About 25 miles total, 15 of those paddling the Red River from the remote Wild & Scenic section down to the middle section and the
Sheltowee Trace National Recreation Trail
. Load up the gear and backpack 10 more miles to the far eastern end of the Gorge for a bisect of the Clifty Wilderness and Red River Gorge Geologic Area. The guy running my shuttle didn't know what to think, he thought he had seen it all...he quizzed me pretty good before he was convinced I wouldn't die out there and actually knew what I was doing, as opposed to most of the visitors to the RRG.
The first 10 miles are pure bliss...no roads or easy access into the upper section, the following 5 miles are mostly flat water but very scenic. I figured on a Friday I would beat the weekend crowds in the Gorge but all of Ohio apparently decided to take the day off and head south over the border. All of my favorite clifftop campsites were occupied so I decided to keep going...and going...until I was a mile from the car and still had some light. The clincher while hiking out was the group of people heading in wearing feather headdresses, some carrying instruments...yep, lets call it a great day and head home early, leaving the RRG to the loud, crazy masses.
The trip was a good learning experience as far as how to pack for a full blown packrafting trip. I had way too much gear, about 15 pounds too much...wet clothes, 2 celebratory beers (mandatory), boating gear...probably had close to 50 pounds.
While the trip was cut short it was still worth every paddle stroke and uphill push on the trail. Everything is greening up, the flower show was spectacular and the weather perfect. Paddling solo in the Narrows section of the Upper Red was a rush, had to scout a few rapids I would normally not think twice about in a kayak. Ran everything but took a few "sneak" routes. Not ready to flip that packraft just yet.
The "Falls" of the Red
Typical Red River scenery
Packed up and ready to haul some weight
Trillium
Pink Lady Slipper
More pics and map of the route...
https://plus.google.com/u/0/photos/105768283703063059928/albums/6009972080437826353
Short video. not much whitewater action, more of a scenic journey down the Upper Red River...
Featured image for home page: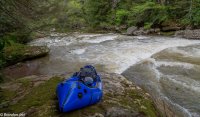 Last edited: