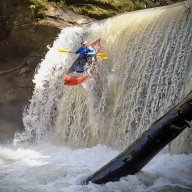 Joined

May 3, 2013
Messages

556
I've been mapping out lots of no shuttle packrafting trips in the southeast over the past few years. If there's a navigable river or creek with a trail system, I've probably got a route for it. One of my favorite places to whitewater kayak back in the day is the Cumberland Plateau in TN/KY. I have been paddling the area for over 15 years and know it well. Its wild, remote and free flowing with no dams backing up the classic runs. It's a paddlers and rock climbers dream. The Obed and the Big South Fork National River & Recreation Area are two of the plateau's greatest hits and I've done a few paddling/hiking packrafting trips in both areas. The
Cumberland Trail
and the John Muir Trail (the lesser known JMT) allow for some really cool linkups.
The
Obed NWSR
is an overlooked National Park Service gem. It's Wild & Scenic designation covers sections of the Obed River, Emery River, Clear Creek and Daddy's Creek. As of 2017 it's an official Dark Sky Park.
These are two back to back solo day trips I did a few weeks ago. Its very rare to be able to paddle these rivers in the summer, but it was a rainy June and July down here so I took advantage.
Day one I hiked 8 miles of the very rugged and lightly used Cumberland Trail in the Catoosa Wildlife Management Area to where it meets the Obed River, and paddled 8 miles back to the car. Some class 3 whitewater added some spice. I started and ended at Rock Creek CG near the historic Nemo Bridge.
Day two I drove to Daddy's Creek from Rock Creek CG and paddled the last two miles to its confluence with the Obed River, and continued down the Obed to where I stopped hiking and started paddling the day before. I then hiked the other section of Cumberland Trail back to the car at Daddy's Creek to complete the linkup. This was a dream packraft trip of mine for a few years, glad I was able to finally bring it all together.
14 miles of paddling, 14 miles of hiking. No shuttle necessary.
Rockgarden Rapid on the Obed
Cumberland Trail overlook
Start of the hike on day 1
Unnamed rapid on the Obed
Morgan's Overlook on the Cumberland Trail looking into the Daddy's Creek gorge
The Dark Sky Park sign at Nemo Bridge was a pleasant surprise. This is my photo, one among many I let the NPS use in their Dark Sky application. Over the years they've used my photography in media, at the visitors center and to help secure the Dark Sky designation.
Nemo Bridge
Nemo Bridge