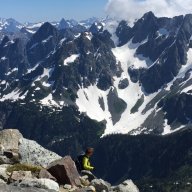 Joined

Dec 28, 2018
Messages

1
So, this was a failed thru hike, and I'm primarily posting the trip report for anyone planning a late spring/summer thru hike on the ozark trail in the Mark Twain National Forest in MO. Overall, summer is not the season to hike this trail.
We had been planning to do about 14 days to go the whole ~215 miles, but we ended up bailing after 60 miles. More on that later.
Day 1
We drove to our endpoint, taum sauk mtn, and ditched a car. I had some family drive us the rest of the way. We dropped a resupply at brushy creek (facebook messaged them, super nice people) and the highway 60 TH (hung a bucket from a tree), and then drove to the bottom end after that (kinda way out there on a high clearance road, but they dropped us at the end of the road, only adding 2 miles to the hike). We got off trail after about 3 minutes, but found it again relatively quickly, and then hiked about 6 miles before setting up camp the first night.
Day 2
This day was rough. It was now that we started realizing how many ticks were there. Every about 5 minutes we had to stop hiking and pluck 6-7 of the little guys off our legs. The other issue we ran into was the trail itself. It was incredibly overgrown, with the low sections having knee high underbrush at the least. Our trail running shoes were soaked in minutes, and the plants stay wet all day because of the humidity. Basically, our feet got destroyed after the first day.
Also, on this day, we ended up getting off trail and hiking on some forest service road for THREE HOURS. Eventually, we found it again, and ended up going about 20 miles this day. We reached the current river rec area and camped in the free campground. Just as we got our hammocks up, a massive thunderstorm hit and it rained all night.
Day 3
Another tough day. This is when we started talking about stopping early. 2 close encounters with snakes this day also. First time, we were coming back from checking out the river and a copper head slithered basically between my legs. Second time, we were filtering water by a creek and I lifted my pack up to see a coiled up copperhead barely a foot from my bare calves. The ticks were the same. We made it into a little competition to see who had the most on them every tick break. We hiked all day in wet shoes, and camped near a fire watch tower which was kinda cool. After a more thorough tick check in my hammock that night, I found about 20 of them in an unfortunate area
. So yes, we were getting kind of frustrated with the Ozark Trail. This was another 20 mile day (the bugs made just hanging out not that fun, it was better to keep moving).
Day 4
After 3 days of hiking with wet feet, the bottoms of our feet were crazy painful. Every step hurt. The ticks remained relentless. We hiked about 10 miles, and then called my family (who were seeing some family about an hour away from our location) to arrange a pick up the next day. Then, since I had my phone out and we had a little reception, I checked the weather, only to see some severe thunderstorm warning. This, in combination with the fact that our campsite was on a giant (multiple acre) ant nest, made us move up our pickup to that night.
We started hiking on a forest service road, then got on a state highway and started walking to meet our pickup. Its storming, and its night, and were in rural missouri with noone around (we were kinda freaked out, especially when an old pickup pulled over, and we looked inside to see some guy with no shirt and four teeth say "need a ride boys?")
We ended up getting picked up fine after about 4 miles, and it was so nice to get away from the ticks and bugs.
Advice
DONT GO IN SUMMER. We didnt see a single person on the trail for 60 miles. We had about 150 ticks each. The trail is crazy overgrown, always covered in massive spiderwebs, its hard to navigate because of how dense the forest is, and there are alot of venomous snakes. If for some reason youre okay with all of this, make sure to bring waterproof BOOTS and treat all your clothes with permethrin or whatever the anti tick stuff is.
I would try the trail again, but probably it would be best to do a late fall or early spring attempt.