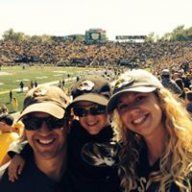 Joined

Oct 7, 2014
Messages

98
There isn't much Midwest love on this site, so I'm sharing a recent
USA Today article
about the Ozark National Scenic Riverways in Southern Missouri.
LINK
to article
I grew up paddling, fishing, and camping in the Ozarks and usually do 2-3 river trips every year. Weekends get very busy (and sometimes rowdy) on certain waterways (avoid the Black, Huzzah, and Meramec on weekends), but on weekdays or in the spring/fall/winter, you can have long stretches of river all to yourself. Bluffs, caves, deep blue springs, and abundant wildlife make this a great area for multi-day paddling trips. There is nothing better than waking up on a gravel bar campsite and throwing a line into the mist-covered river while enjoying your coffee.
Below are some of my personal favorite trips:
Current River -
River Map with Descriptions
Baptist Camp to Two Rivers (51 miles, 3-4 days)-- Baptist Camp to Cedar Grove is a permit trophy trout area, just below the Montauk hatchery. This stretch is best done in the spring or early summer due to water levels. There is a short portage required in one section due to the Cedar Grove low water bridge. The Cedar Grove to Two Rivers section is one of the prettiest in the state, and there are ample gravel bars that make great campgrounds. This section includes several large springs, float-in caves, and many river bluffs. There are many amazing day trips in this section. My favorite outfitter is Eminence Canoe at the Hwy 19 bridge.
Eleven Point River -
River Map with Descriptions
Thomasville to Highway 142 Bridge (44 miles, 2-3 days)
Abundant springs, towering bluffs, regular river mist, great fishing -- this may be my favorite trip, albeit much more difficult due to logistics and remoteness.
Jack's Fork River -
River Map with Descriptions
The "Prongs" to Eminence (37 Miles, 2-3 days)
The first day and a half of this float is probably the closest that we have in Missouri to a river canyon. This is another spring/early summer float unless you like to drag a lot. There is an awesome cave about 12 miles in that contains a lake/falls lit by the sinkhole above. Another great trout and other game fish area. You end in the town of Eminence, which has several cabins/motels and restaurants, so this makes for a good jump off point to relax and rest before the drive home.
Other great rivers
Courtois/Huzzah - Spring/early summer only. Avoid on weekends due to crowds.
Upper Black River - Good smallmouth fishing