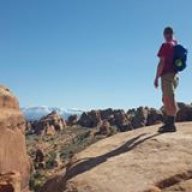 Joined

Jan 14, 2016
Messages

31
If anyone is familiar with where the Joint Trail meets up with the spur from the 4WD road in the Needles, there is a little loop there with a pit toilet.
See below for a map:
https://www.google.com/maps/@38.1036669,-109.8662676,203m/data=!3m1!1e3
I've seen vehicles parked there during the day. Anyone know if you can park there overnight? My buddy and I are taking our 10 year-old-daughters to CP3 in March and I was hoping to cut down on the distance we have to hike. It's their first backpacking trip and I want to make it as gentle an introduction as possible (I know, you're probably asking why we're going to the Needles for a first trip for a 10 year-old). My thought was we could spend one night in Devils Kitchen and then drive to that spur, park it, and backpack in to CP for a night or two. That cuts down on water worries as well as the amount we have to haul in. I just don't know if we can leave our vehicle there for a couple of days. I couldn't find any info at nps.gov.