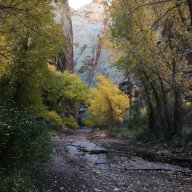 Joined

Mar 27, 2015
Messages

172
Back in October I had enough time to do an overnight trip in Capitol Reef. Lower Spring Canyon seemed like a good choice for the time that I had. So I headed down with two family members. We did get a late start but it still worked out good for us. We started at the Chimney Rock trail head.
We only saw a few people the entire time and that was right at the beginning of the trail. I feel like we had the entire canyon to ourselves. There were some awesome fall colors in the canyon. The yellow leaves with red rock in the background is quite the site.
We then came to a spot where you make your way around a small slot canyon.
After passing by the small slot canyon, it was a fairly easy hike to where we would camp.
We camped in a little alcove that kept a lot of the wind out of our tents. I however wouldn't camp in it if rain were in the forecast, or if had just rained recently. We spent the rest of the night relaxing and enjoying the canyon. The only down side were people who snored really loud.
The next morning we only had 2 or 3 miles to get back to the highway.
I think that overall we did about 10ish miles. It was a perfect fall trip. I have to give some credit to
@WasatchWill
, I got the idea from watching one of his YouTube videos. He has a good video where he spends the night in Lower Spring Canyon as well. I am actually planning on going back in April to do a loop trip that involves Lower Spring Canyon.