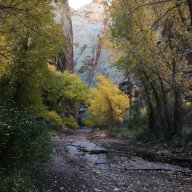 Joined

Mar 27, 2015
Messages

172
So this last weekend I went down to Capitol Reef with the intention of doing a two night backpacking trip. Due some complications that arose, it ended up being an overnight trip. The plan was to spend one night in Lower Spring Canyon, and then one night on the Frying Pan trail.
We arrived in Capitol Reef by about noon and picked up our permit, and shuttled cars. We then began working our way into Lower Spring canyon. I was surprised by how many people I saw out on the Chimney Rock trail. I have never thought of Capitol Reef as a popular National Park, but it seems as though it is starting to gain some popularity.
Once we reached the turnoff for Lower Spring canyon we didn't see anyone else for the rest of the day.
One of my favorite spots on the way to Lower Spring canyon is when you turn a corner a see a big tree in the middle of the wash. It is impressive to see in both spring and fall.
Even for hiking pretty slow, we made good time through the canyon.
I don't know what it is about this canyon, but I love the way the green leaves on the trees compliment the red rock. The last time we came through Lower Spring canyon I never noticed the arch up on the canyon wall. This time however I got lucky and looked up and saw it.
Our plan for the first night was to find a place to camp down passed the spring. We stopped here and there for pictures as we made our way to camp.
We found a spot to camp for the night with plenty of daylight left. We got everything set up and dinner cooked. This trip I should have brought some things to actually try cooking with, but I got lazy and brought some freeze dried food instead. Once we were done eating two of the guys in our group went and fell asleep for night. After it got dark I went and laid down in my tent just in time to hear a bunch of frogs up the canyon. It was cool to hear. At one point I thought I heard something behind the tent in the bushes. I got out to make sure my food bag was okay and didn't see anything so I went back to sleep. In the morning we ate breakfast got everything packed up and ready to go.
We stopped to filter some water before went down the rest of the canyon. This would be the last water we would see for the rest of the trip. It didn't take to long before we made back to the highway. Once we got to the highway, we walked along the road until we reached Grand Wash. We followed the Grand Wash until we came to the parking spot at the other end. We stopped and had some snacks and took a break.
Once snack time was over we headed back to the Cassidy Arch trail to make our way over to the Frying Pan trail. It was at this point that I was informed by a guy in our group that another individual was struggling. We kept an eye on him and took more breaks to help him along.
It was my first time on the Frying Pan trail, and it did not disappoint. The views were spectacular. We took a break along the high point of the trail. It was a perfect spot to soak in all the views. After we started hiking again, we began to look for a campsite for the night. Once we found a spot to camp for the night that's when I was told that the individual that was struggling wanted to go home.
I was a little upset that this individuals lack of planning had caused a problem for the rest of us. This individual supposedly was a very experienced outdoorsmen. This proved to be false. We ended up finding out he ate all his food and that he had not water left. So after discussing our options the decision was made to continue hiking the rest of the way to the car. So our two night trip ended up being just one night.
Other than the one individuals poor planning, the trip went well. I am looking forward to repeating the trip and completing it this time. Capitol Reef always impresses me with what it has to offer.