This was my second to last backcountry night of the season. Ice Lake Is really, *really* close to the road. There are three sites. One is about two miles in, nicely appointed, and features wind. I swear, in July the wind chill at that site is 10*. There'a a site that's about 3/4 of a mile in, and it's beautiful, sort of small, and always taken. Then there's the third site. It is around a half mile in, is handicap accessible, and very nice. I think that for the last three years I've gotten that site on my final backpacking trip of the season. I figure that if something happens weather wise, I can make it to the car easily enough.
There's a bear box and a big fire ring. From the kitchen area there is a nice view of the lake. I usually put my Helinox chair here for a while, then move 25 feet and sit there for a while, then move somewhere else for a bit. I almost never have a fire. Instead I move around and try to check all the views. For a while, I watched a muskrat. I'm not sure what he was up to, but he was busy. Mostly, I guess I stored up sites and sounds and smells for the coming winter, like a squirrel stores seeds.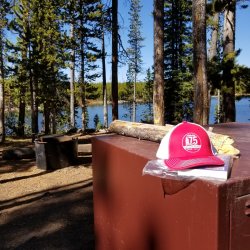 The muskrat was working by the far shore. I sat here for a while.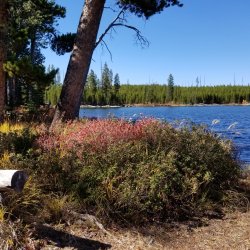 Next I sat here for a while. The busy campsite is over there. From this spot, you can see people day hiking along the trail over there, and people who sit on a log and have something to eat. Speaking of snacks, this is a nice spot to have a snack.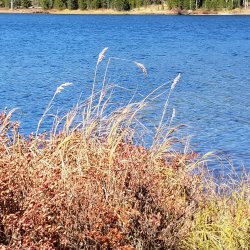 A slightly different take on the muskrat work site.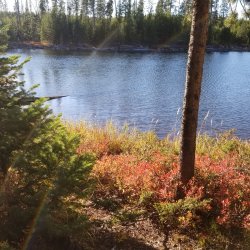 Looking down toward the end of the lake, with my feet up on a log.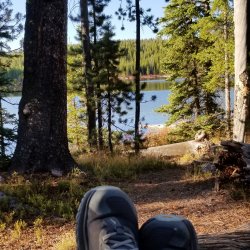 My favorite spot to sit at, at this site. There's a log that I sit next to. I put my cooking stuff on the log, for organizing, and my stove goes beside me. I watch the world go by while I cook and eat and drink coffee or tea.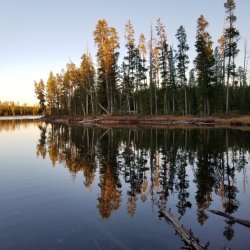 It's a tough choice. This view or a fire. You don't have to "put out" this view before bed.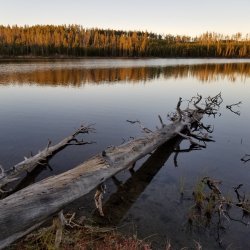 Well, there's not much to see here, but the tent site is flat and in the woods. Out on the lake, the are two spots, but they're really close to the food box.
Everytime I've camped here, I've heard elk bugling in the night. Honestly, they sound like they're in my tent, they sound so close.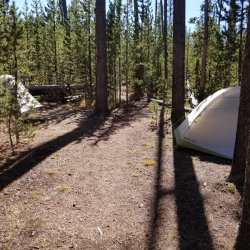 Another stroll around the campsite before turning in.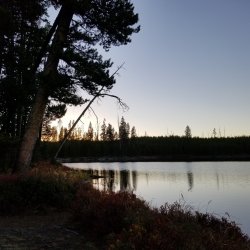 Morning fog.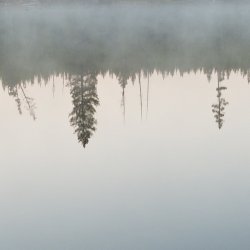 Last night's supper view looks the same, yet different, in the morning.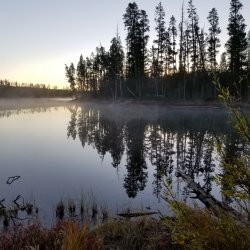 The log I put my stuff on when I eat.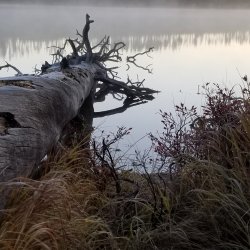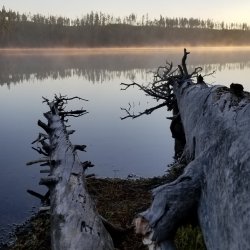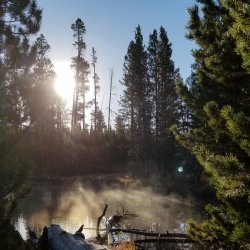 We sat there and just watched until about noon. The fog had lifted. The light had changed. We hiked the short distance back to the trailhead.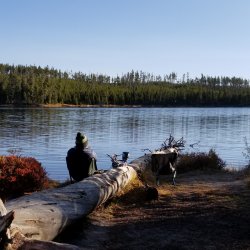 Last edited: