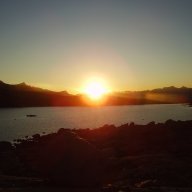 Joined

Jan 23, 2015
Messages

56
Is it just my imagination and ever-expanding waistline, or has the trend in outdoor clothing fit been increasingly emphasizing "athletic fit" and "trim fit," ie slim and broader in the shoulder and trim in the waist, and a body-hugging cut? Once upon a time I was pretty slim (scrawny by most accounts), but my ideal fit now would be "anti-athletic"- broad in the waist compared to the shoulder- or perhaps we could call it the "likes beer too much" cut.

At any rate, for examples of what I mean by changes in clothing fit, for almost 15 years I've been living in a Columbia lightweight fleece, half-zip top. It long ago stopped looking good enough to wear to a casual dinner or something but has held up really well. Armed with a Columbia store gift card recently, I tried to find a fresh replacement and the closest equivalent in the same size didn't fit anywhere near the same- its not too small but it is too snug to be as comfortable as the old top. Recently I purchased a Marmot Super MIca rain shell from Sierra Trading Post to replace my Marmot Phoenix, which was a shell sold thru REI that was essentially a Precip with a more elaborate hood. The Precip/Phoenix shell was a size medium, as I usually wear, and could easily be layered over my lightweight down jacket or primaloft pullover. I was nervous about ordering the Super Mica in size large since medium was not available but was glad I did as the size large Super Mica just barely layers well over my insulating layers. Its the trimmest men's large I've ever seen- except for the sleeves, which are a bit long for me but I think could be beneficial hiking in heavy rain.

I've seen folks of all sorts of body shapes and types on the trail- most of them not built like Magnum PI era Tom Selleck or Anna Kournikova- active people in good shape who can hike long miles, summit peaks, carry heavy packs for multiple days. Are they (we) not being well served by manufacturers catering to an ideal body type that doesn't accurately reflect the less than ideal body shapes of customers that can actually use their product? Or I am too bloated and slow to notice all the svelte people bounding about and past me in their sporty clothing? I realize many manufacturers do specify different fits - ie "regular", "classic", "trim", "athletic" etc. But rarely if ever are multiple fits offered for the same product. Its as if manufactures are designing lines of clothing to sell to their mannequins.