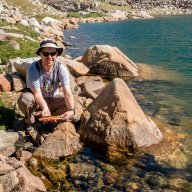 Joined

Jan 19, 2012
Messages

1,199
A few months ago I picked up a Osprey Stratos 24 Daypack on sale at
Amazon.com
. My current day pack was a cheap P.O.S. and I had been needing to replace it for some time. I initially ordered the Stratos 34 and when it showed up I quickly realized its HUGE (for a daypack)! So I returned it and ordered the 24. It's much better suited for a daypack! And it's cheaper than the 34!
I haven't been able to fully test the pack yet, but I have loaded it up to see how well it functioned and I have to say I like it very well!! In fact I am now looking at Osprey's backpacking packs!
The pack has a mesh back that has a gap between it and the rest of the pack letting air get in between the pack and your back! It also has a very nice/comfortable hip belt. This is an area my old pack really lacked it as it was just a straps 1" wide. Another cool feature that sold me on this pack is that it has a built in rain fly! I always worry about getting caught out in a down pour and getting my camera, gps, phone, etc. ruined. I always packed zip lock bags, but worried that they would get a hole in them over time from using the backpack over time.
Stats: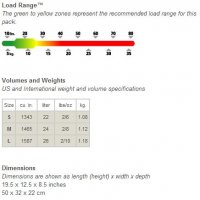 Front of pack. You can see my cheapy tripod fits nicely on the side of the pack.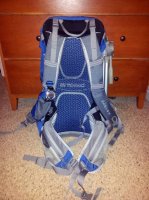 Gap between mesh panel and the pack. I might need a jacket to keep from getting too cool!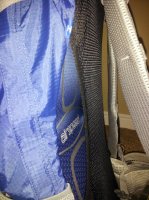 Back of the pack.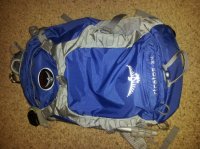 The pack has 3 main compartments. This one is the smallest. In here I have my headlamp and a spare SD card for my camera. It's got a little hook thing for clipping your keys in, in this pocket.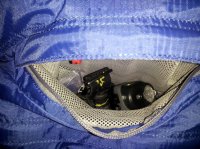 The next compartment is the main one. In the bottom I keep my first aid kit, emergency sleeping bag (foil survival bag), and some sunscreen in a zip lock.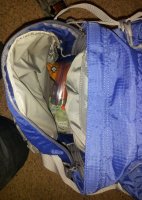 From within the main compartment is access to the hydration pocket. I believe it's designed so you can place the hydration bladder in the gray compartment or unzip the zipper and place it in the space between the mesh panel and the pack. I'm not big on hydration bladders and have not tried this.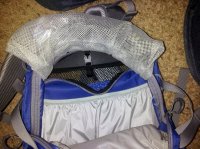 The 3rd compartment is about twice as big as the 1st one. In here I have my T-P, lighter, and spare batteries for my headlamp. There's also enough room to put quite a bit of snacks for lunch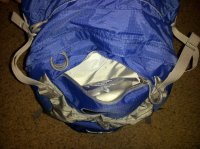 So far I really like the pack. I'll have to post a follow up when I've used it for a few hikes.