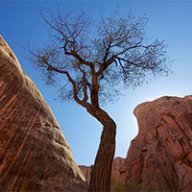 Joined

Aug 9, 2007
Messages

12,939
July 2005
Now this was a vacation, a whole week off for a road trip to Oregon. I had just bought a Toyota 4-Runner a few days earlier, what a fine way to break it in. Nate had been living in Corvalliss, Oregon for about a month and I figured I would go take advantage of his home base and see more of Oregon, my second favorite state. The first couple of days consisted of going to the coast, hiking, fly fishing local rivers, etc. The rest of the trip was a backpacking trip in the Cascades on which we inadvertently ended up spending several days camping right along the Pacific Crest Trail. The PCT is one of the largest, most used trails in the United States. Think of it as a sort of backcountry super-highway, people passing by are often pushing 30-40 miles per day in their goal to hike from Mexico to Canada. The pictures should tell the rest.
The first day was spent on the drive to Corvallis where Nate has been living. I think he had some wires get crossed, he up and moved here a month earlier. He doesn't have a job yet, he just goes to the beach. What a rough life. This shot was taken out of the sunroof. This is the highway as I crossed through the Cascades between Bend and Corvallis. The smell was intoxicating.
The next day we woke up and drove straight to the ocean. Newport is just about an hour away from Corvallis. This is just south of Yachats, OR.
Classic Oregon tide pool fun
Nikita had never been to the ocean and she was SO happy to see Sonny again. Can you tell?
Every dog should have a beach. Here is the proof.
And here is a video from the beach. Watch closely at the end. Sonny pulls one of his classic 'hiding in plain sight' attack maneuvers while Nikita is drunk with joy. She ends up to an aerial barrel roll. Good stuff.
Sonny being a baaaaad dog. There was a Cormorant about 20 feet out in the water. Sonny swam out to it, picked it up and dragged it to shore. We didn't think to stop him because we figured it would just fly away. What bird wouldn't? Later on I read some things about a huge number of Cormorants dying due to unusually high water temperatures along the coast, resulting in no fish to eat.
But amazingly Sonny was very gentle with it. Once they got it in the dogs only wanted to smell it and watch it. It appeared that Sonny didn't even hurt it.
After the hike down the beach we went looking for a place to car camp. We never found anything very nice and ended up heading back to Nate's pad in Corvallis. On the way we stopped at Mary's Peak and took a short day hike. Mary's Peak is the tallest mountain in the Oregon Coastal Range at 4097'.
Nate climbed up on this communications building to get some better shots.
A couple from along the trail to the peak. It's just a short walk from the parking area.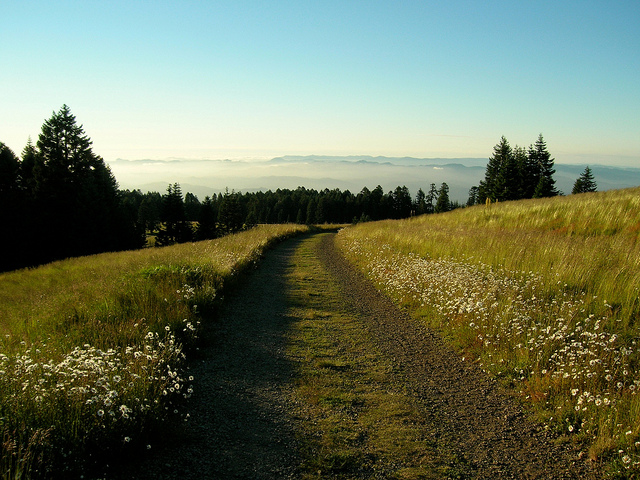 The next day we went to the foothills of the Cascades so I could do some fly fishing. Nate doesn't fish but he seemed to enjoy himself regardless. This was the spot that Nikita ate the fateful fish that almost killed her a week later. But thats another story...
----insert Nate's photo----
Another spot we went fly fishing at. Beautiful but I never caught anything very large.
The next day we started on our multi-day backpacking trip into the Mount Jefferson Wilderness near Detroit, Oregon. The obligatory wilderness sign photo.
This was my first time backpacking in Oregon so things like this moss-covered tree were fascinating to me.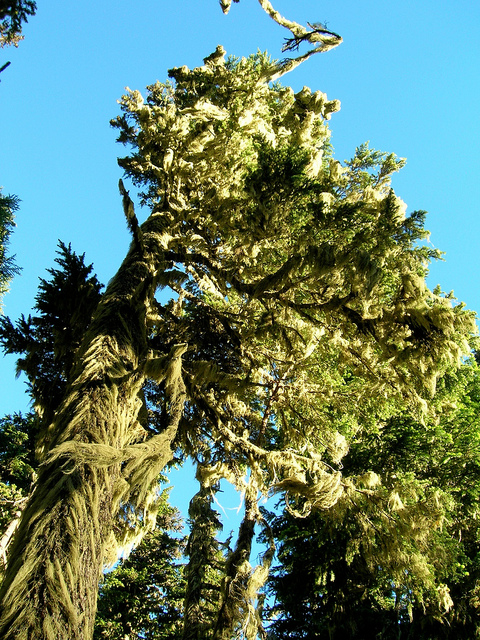 About 8 miles down the trail we reached our destination for the first night, Hunt Lake. This is the view of Hunt Lake from our camp. We had it all to ourselves.
Camp at Hunt Lake
The next day we decided to hike up the steep slope behind Hunt Lake to some smaller lakes we saw on the map.
There was no trail and it was extremely steep but it offered some incredible views of Hunt Lake and the surrounding area.
It was a tough hike up. At the top we reached a small cliff line. Nate and Sonny went around but I decided to climb up through the cliff. Somehow Nikita was able to follow, I have no idea how. It was literally a good 20 foot cliff that we climbed up. The dogs found this pond as a great cool down after the whole ordeal.
Our first view of Mount Jefferson.
This was our nice camp below Mt. Jefferson. We stayed here two nights. After setting up camp we realized that we had inadvertently picked a spot right along the Pacific Crest Trail. The PCT runs from Mexico to Canada through the Sierra Nevada's and the Cascade's and everything in between. People are crazy about it. We ran into so many people while we camped here. Everything from an elderly couple doing a couple hundred miles to some crazy hippy that was pushing 35-40 miles per day and wanted to borrow our water filter.
Nearby Jaguar Lake made a fine swimming hole. This shot is of me teaching Nikita it's safe to swim. This was her first time, she has always been pretty afraid of water.
Needless to say she got tired of that game fast.
The view of Mt. Jefferson from Jaguar Lake.
Back at camp,the mosquitoes here were terrible. Nate forgot his bottle of Deet so we were sharing mine which was less than half full. Basically we were screwed. We would ration a few pump sprays per day for each of us. The rest of the time we would find wet bark to make the fire extra smokey. The mosquitoes wouldn't bother us when we stood in the smoke.
This was our primary source of mosquito repellent, this moss and the wet bark would smoke up great. Unfortunately there are also a lot of bugs in it. Something bit me on my hand while collecting this stuff and it got so swollen I couldn't get my watch over it.
On the next day Nate took a hike with Sonny up the south flank of Mt. Jefferson. I opted to nap all day. It turned out to be a prudent decision. Nikita was not well. The first issue I noticed was that she became incontinent. She would just be sitting there and pee would be dribbling down the slope from her. She slept constantly and was getting grumpier every day.
On the hike back out. It is rare to see any kind of view in Oregon due to all the trees. It really made me appreciate Utah. And unfortunately that is where the picture taking ended and my desire to save Nikita's life began.
When got back to Nate's from backpacking Nikita really went downhill. She wouldn't eat anything and the incontinence was getting really bad. I loaded her up and headed out for Utah. When I got back I took her to the vet and they figured she had some sort of infection. They gave her antibiotics.
Day after day I couldn't get her to eat anything. She was still incontinent and losing weight fast. I was bringing home steak and chicken form work for her every day and she wouldn't eat a bite. After another visit to the vet they finally connected the dots and figured she had a rare condition called Salmonoid Disease. It's a very strange disease found only in the Pacific Northwest. Only dogs can get it and they can only get it from eating raw fish west of the Cascade Range in Washington, Oregon and Northern California. If treated properly it goes away and the dog is forever immune. If not treated it is fatal. They gave me some pills and Nikita was 100% healthy within 2 days. Close call. I love that dog.