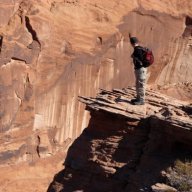 Joined

Jun 16, 2012
Messages

1,487
Has anyone ever played around with
Open Street Map
? It's basically an open source map that is user editable. There are several apps for smartphones that use these maps, and I think they're very useful.
And, of course, I'm just map-nerdy enough to want to work on adding to the map. Unfortunately, the software is terribly confusing, and my eyes very quickly glaze over every time I try to learn how to use it. So I was just wondering if anyone else has tried editing the map or if anyone wants to start trying to learn how to edit the map with me.
The biggest thing I would like to do is add hiking trails to the map. It's got a lot of trails already, but, man, we all sure hike a lot of trails, and it should be terribly easy to get them all added to this map, which would make them accessible on smartphone GPS apps.