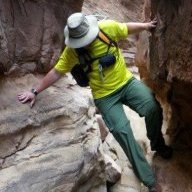 Disappointed, passed over.
Joined

Jan 17, 2012
Messages

1,594
Lately I've really enjoyed looking for rock art in the San Rafael Reef. On my past two trips there, I found some pictographs that I was previously unaware of, and I know of nobody else who has seen or heard of them as well. This past weekend, I went on another trip to the Reef and hiked up Old Woman Wash to find some rock art known to others, though I didn't have any specific location information. I used three photos (
1
,
2
,
3
) I found on Flickr to help locate three different rock art panels, and I was elated to find all three pretty easily.
I headed out with a friend on Friday afternoon, and we made a side trip up and back down North Temple Wash before heading to camp at Garvin's Chimney at the mouth of Old Woman Wash. It was around 20 degrees during the night, but it stayed around 28 degrees in my tent. We took our time getting up and preparing for the hike the next morning, waiting until we were warmed up before setting out up the canyon.
Driving through North Temple Wash
Sunset on the way to camp
Around the fire at Garvin's Chimney
My tent
Ice crystals on the inside of my tent flap in the morning
Camp
Starting the hike up Old Woman Wash
Old Woman Wash
Torrey getting a drink
Old Woman Wash
I was surprised how little we'd hiked before running into two of the rock art panels. They were easy to find, and we spent quite a bit of time scanning the cliffs for all of the faint pictographs and petroglyphs that were there. There were also some historic inscriptions there, including a Spanish writing that probably predates any permanent settlements in the area. After checking out all the rock art, we decided to hike up the canyon as far as we could. I knew we'd eventually run into a dryfall that would prevent us from going further, but we made more progress than I expected before we had to turn back.
"Paso Por Aqui" inscription
Pictographs near the Barnes Panel
J.C. Beck inscription
Barnes Panel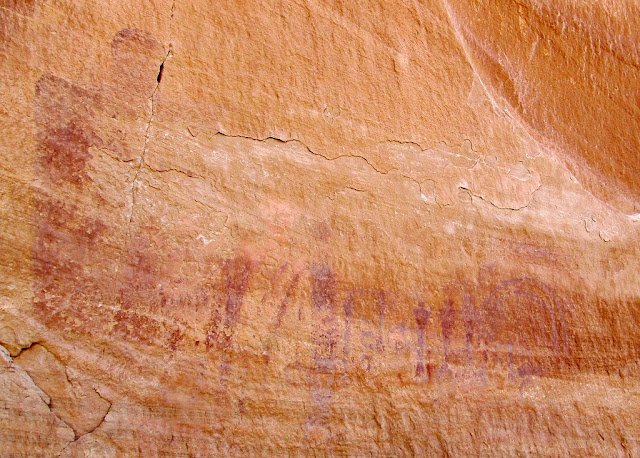 R.F. Drake inscription
Perhaps the "old woman" of Old Woman Wash?
Large pictographs across the canyon from the Barnes Panel
High Alcove panel
High Alcove pictographs
High Alcove pictographs
Continuing up Old Woman Wash beyond the rock art
The dryfall that stopped our progress
After turning around and descending the canyon, we took a side canyon that took us on top of the Reef so we could look for the Ekker Panel. I wasn't optimistic about finding this panel. The photo I had to go on was weak at best, but I'd done some previous research in Google Earth and found a faint trail leading to a cliff that looked likely enough. I was very surprised to arrive at that cliff to find that the coordinates I'd guesstimated were dead-on. The Ekker Panel was much more extensive than I expected--there is some really awesome stuff there. Unfortunately most of the cliff was in direct sunlight, and some figures were partially in sun and shade, so my photos aren't great. I plan to return another time to catch this panel in the morning for better lighting.
Side canyon leading out of Old Woman Wash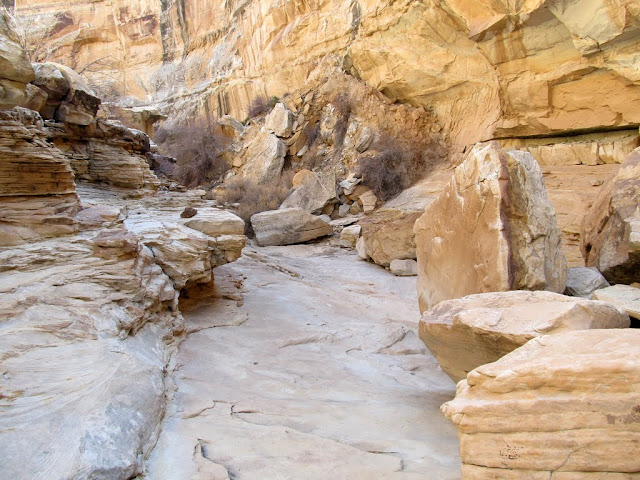 Ekker Panel
This figure was huge--probably at least eight feet tall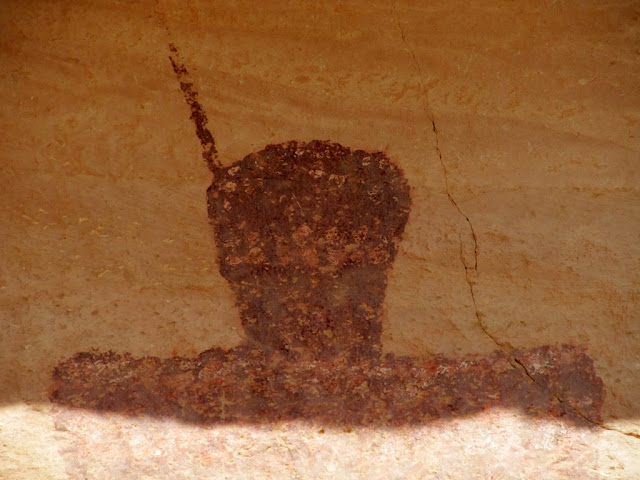 Here's a link to the full photo gallery:
https://picasaweb.google.com/Dennis.Udink/OldWomanWash
And a link to my blog entry:
http://udink.org/2012/02/20/old-woman-wash/