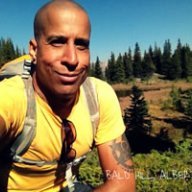 Joined

Mar 11, 2014
Messages

2
Fortunately, as long as I'm constantly expanding my horizons and learning, experiencing new things - I'll happily be a noob daily. I/m currently a day trip backpacker with a serious itch to take up longer and more remote adventures. For the most part I hike solo, and am looking forward to experiencing the remoteness and adrenalin rush of taking my pack to parts up high. I'm learning that this passion seems geared towards life above the tree line - and hopefully I'll bump into some folks who can educate, share and with whom I can share with..once I get my butt up there..again, and again.
Where did this itch come from? Well - my other passion is motorcycle touring, and on a long weekend camping trip to Jaspers Whistler's campground, I decided to take a day hike to Bald Hills in the Maligne Lake area. I'd asked in town - " where can I go to do MORE than just hike through the woods as per every other hike I've done - as beautiful a that is" The local "greeter" in the town of Jasper ( at the North Face store ) pulled out her map and suggested several options - my choice being the quieter Opal hike vs the more crowded Bald Hills trek.
Purely by accident and an inability to take note of road signs marking the route to Opal - I went the wrong direction and ended up at the foot of...you guessed it - Bald Hills. A little annoyed - ok, a LOT annoyed - I threw on my pack and set up the path. I've heard the term "grunted" when people have described the fire road that leads to the summit, and that's precisely what I did for the last half of the walk. I have no doubt that any given hiker making their way down that I passed on the way up more than likely confused me for a bear - which would explain the abundance of "hands on the bear spray cannister" stance of a few of em.
Long story short - I arrived at the end...not realizing that the end was essentially a "summit", and never having seen anything from the end of a hike other than more trees or a loop back....and I was sold. The woman back in Jasper had described what I would see as "moonscape" - and endless rolling desolate view that for some might seem stark, and to others like myself, a reminder of just how small we are, and just how breathtakingly huge the world around us is.
Hello itch