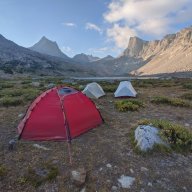 Joined

Jan 15, 2018
Messages

63
Good morning all. I'm looking for some advice as to how to best develop my skills for off-trail hiking.
First off, I live in Florida, and only get to do 1 backcountry trip per year (for now). I started backpacking in 2018, and have a total of 37 nights in the backcountry. Our longest trips were a pair of 10 day trips in Yellowstone. With the exception of 5 miles of the second Yellowstone trip being off-trail, all of our travel was on trail until this year. This past September, we did a Wind River (Lee Lake) route that I got from
@Bob
that included a couple of days of off-trail travel. I was fortunate to have Nancy Pallister's book, and, more importantly,
@Bob
's GPS track from his trip.
I carry both an Inreach and my phone (using the Caltopo app), so even when the route became difficult to follow, I could look at my phone to get us back on track. I'd prefer to not have to constantly be looking at my phone. My group wants to do longer trips in the Winds, and I know that is going to require substantially more off-trail travel.
I know there is no substitute for experience, but, given my current constraints, can anyone share any tips for improving off-trail skills? I have my eye on a couple of books (Wilderness Navigation by Bob Burns and NOLS Wilderness Navigation), but I'm sure you can only get so much from a book. I'd also like to learn a bit more about mapping an off-trail route. I spend a lot of time on Caltopo looking at and mapping routes, but aside from looking at slope angles, contour lines and other similar metrics (to avoid cliffs, etc.), I'm curious how other hikers go about putting an off-trail route together on Caltopo. Thanks everyone.